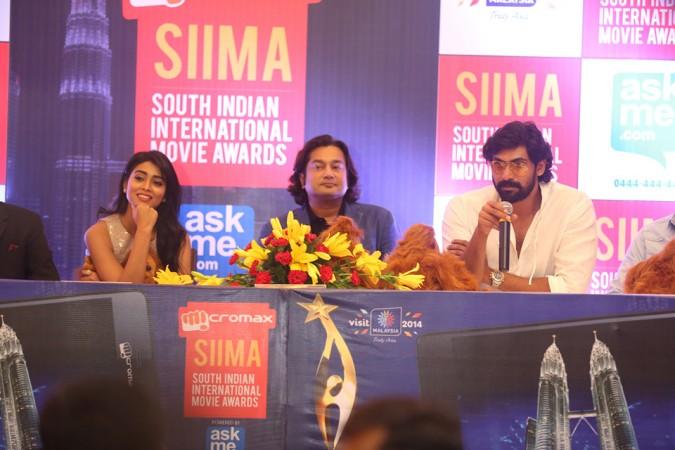 The nominations list of South Indian International Movie Awards (SIIMA) 2014 was announced at a press conference in Hyderabad. The press conference was attended by actress Shriya Saran and actor Rana Daggubatti.
The two-day award event will be held on 12 and 13 September 2014 in Kuala Lumpur, Malaysia, thereby opening the market of South Indian Films a step ahead on the global platform.
"There are a large number of South Indians spread across the globe but the revenues that the South Indian film industry generates through the overseas market are far less. Through SIIMA, we hope to promote South Indian cinema worldwide and bring South Indian stars closer to their global audience," said Brinda Prasad, Chairman of SIIMA.
SIIMA awards are one of the most awaited awards of the year. The event will see artists from Tamil, Telugu, Kannada and Malayalam being honoured. The function is known for demonstrating exceptional work of art, innovation, integrity and success.
"I have been associated with SIIMA for two long years now and it is indeed a pleasure to be a part of the third edition as well. SIIMA 2014 will be an exciting experience as I will be performing in Malaysia. SIIMA gives the South Indian Film fraternity an avenue to meet globally and celebrate successes over two days; it truly makes for a wonderful experience," Shriya pointed out.
"South Indian cinema is one of the biggest film industries in the world and SIIMA provides a platform for the stars to showcase their work to a global audience. SIIMA is a way to celebrate with the film fraternity and connect with a global audience," added Rana Daggubatti
In Kannada nominations, "Googly" topped the list with 11 nominations, including best film, best director, best actor, best actress, best comedian, best playback singer (male), best playback singer (female), best lyricist, best fight choreographer, best dance choreographer and best cinematographer.
Sudeep, Darshan, Yash, Upendra and Shivarajkumar are nominated as the best actors. Kriti Kharanda, Amulya, Radhika Pandit, Pranita Subhash, Aindrita Ray are nominated in the list of the best actresses. The nomination list was prepared by a panel of experts and the winners will be announced based on public voting.
Check the list of nominations for Kannada here:
Best Film
Myna
Bachchan
Googly
Shravani Subramanya
Bhajarangi
Best Director
Manju Swaraj – "Shravani Subramanya"
Pavan Wadeyar – "Googly"
Pawan Kumar – "Lucia"
Nanada Kishore – "Victory"
A Harsha - "Bhajarangi"
Best Actor
Sudeep – "Bachchan"
Darshan – "Bul Bul"
Yash – "Googly"
Upendra – "Topiwala"
Shivarajkumar – "Bhajarangi"
Best Actress
Kriti Kharbanda – "Googly"
Amulya – "Shravani Subramanya"
R4adhika Pandit - "Dilwala"
Pranita Subhash – "Whistle"
Aindrita Ray – "Bhajrangi"
Best Debutant Director
Ravikiran Vikas – "Jayammana Maga"
Sunil Kumar – "Simpleagg Ondu Love Story"
Nanda Kishore – "Victory"
B M Giriraj – "Jatta"
K S Ashoka – "6-5=2"
Best Debutant Male
Arun – "Gombegala Love"
Dhananjay – "Directors Special"
Niranjan Shetty – "Case No 18/9"
Shankar Aryan – "Chitramandiradalli"
Krishna – "Madarangi"
Best Debutant Female
Akhila Kishore – "Pade Pade"
Parvathy Nair – "Story Kathe"
Shruthi Hariharan – "Lucia"
Pavana – "Gombegala Love"
Rachitha Ram - "Bul Bul"
Best Comedian
Sadhu Kokila – "Googly"
Chikkanna – "Raja Huli"
Rangayana Raghu – "Jayammana Maga"
Tabala Nani – "Bhajrangi"
Bullet Prakash – " Bachchan"
Best Actor in a Negative Role
Kishore – "Attahaasa"
Raghava Uday - "Jayammana Maga"
Lokesh – "Bhajrangi"
Ramya Krishnan – "Sweety Nanna Jodi"
Ravishankar – "Varadanayaka"
Best Child Actor
Baby Ahana - "Lakshmi"
Sanya Iyer – "Chandra"
Master Lakshman – "Teenage"
Best Music Director
Vijay Prakash – "Andhar Bahar"
V Harikrishna – "Bul Bul"
Poornachandra Tejaswi – "Lucia"
Arjun Janya – "Varadanayaka"
Jassie Gift – "Mynaa"
Best Cinematographer
Sathya Hegde – "Mynaa"
Shekar Chandru – "Bachchan"
Vaidi S – "Googly"
A V Krishnakumar - "Bul Bul"
Siddartha Nuni – "Lucia"
To view the complete nomination list, click here