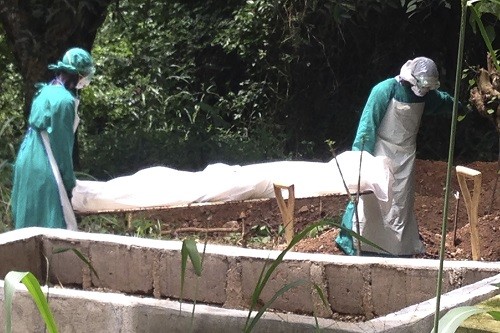 Sierra Leone, which brought into effect new laws aimed at curbing the spread of the deadly Ebola virus in the worst-affected country, convicted a village chief for secretly burying his daughter who had died from the virus and for failing to report a case.
Amadu Kargbo became the first person to be convicted under the country's Ebola laws, and has been sentenced to six months in jail and has been slapped with a fine of one million leones ($235), AFP reported.
Kargbo will be kept in quarantine for 21 days, the incubation period of the virus, before he is put behind bars.
Sierre Leone has threatened a crackdown on those who do not follow the new regulations related to the disease, aimed especially at stopping the tradition of cleansing the dead before burial, as this practice has been the source of many infections in the country.
The government has threatened to arrest 'entire families' if they are found not complying with the Ebola laws.
"Anyone found in violation of the law as far as burials, washing of corpses and keeping sick people in homes ... will be dealt with severely," Palo Conteh, head of the government's National Ebola Response Centre had said.
Sierra Leone is currently the worst-affected country in West Africa after the Ebola epidemic began this year, as it has recorded the highest number of infections with 8,939 cases. More than 2,500 people have died in the country from the disease.
The virus has killed more than 7,500 people this year, including many health workers.
A leading doctor in Sierra Leone lost his life to the disease recently.