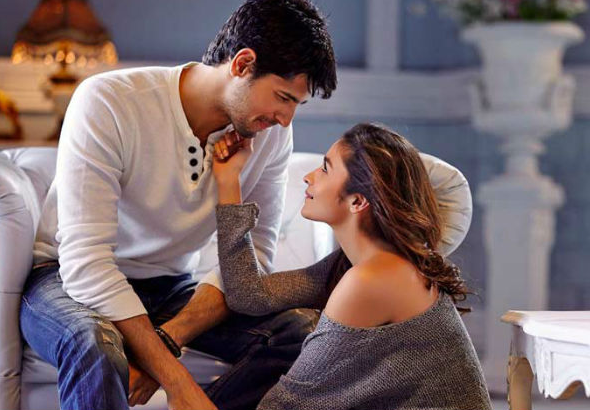 As Sidharth Malhotra gears up for his upcoming film Ittefaq, Karan Johar sat down with the actor and the star cast -- Sonakshi Sinha and Akshaye Khanna, interrogating them about the film and their personal life.
It all started when Karan asked Sidharth about his sex life. Sid got a little shy but he still answered saying, "Exciting". On grilling further, he said, "Exciting, thrilling and intriguing; all in the same line."
Karan immediately asked whether this statement can have two versions, Sid laughed and tried to dodge the question and said: "Yes, there could be two sides...."
Karan Johar closed the interrogation by saying: "Sidharth Malhotra's sex life is exciting, thrilling and intriguing; at least for the moment."
Do watch the video here:
Joining the funny conversation, Akshaye also told Karan Johar: "Your Shoes are ANNOYING the sh** out of me." And Karan couldn't decide whether he said it out of pity or praise.
Talking about the film, Akshaye Khanna said, "My father did Ravi Chopra's debut film, I am doing his son Abhay Chopra's debut film... it is a lovely coincidence."
And Sonakshi said: "My father was offered the role in the original Ittefaq but somehow it didn't work out and today I am a part of the remake version of it."
KJo also shared something about Akshaye Khanna: "You said no to Qurbaan, we know how that shaped up (laughs). I'm glad you said yes this time. I thought you might say yes, or you might say no, there is no way of gauging from your tone. I was telling someone -This dude is weird! You have a really scary tone Akshaye."
Also, Shah Rukh Khan also spoke about the film at a press meet. He said: "What's wrongly essayed is that it's not a remake — the premise might be similar to the 1969 Ittefaq but the movie has taken a flight of its own."
Ittefaq is a remake of Yash Chopra's film of the same name, which was released in 1969 with Rajesh Khanna, Nanda and Madan Puri in the lead roles.
Directed by Abhay Chopra, the upcoming thriller has upped our curiosity level with the posters and trailer that the makers unveiled recently.
Produced by Dharma Productions and Red Chillies Entertainment, Ittefaq is scheduled to hit the screens on November 3.