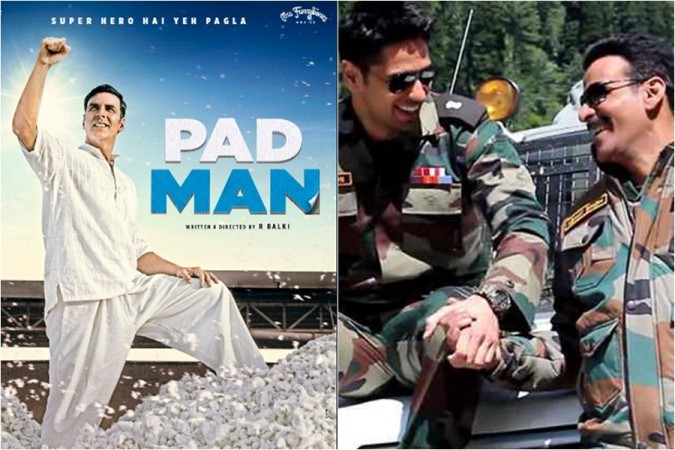 In a sudden turn of events, Akshay Kumar agreed to the request of Sanjay Leela Bhansali to push the release date of his upcoming film PadMan making way for Padmaavat to have a solo release at the box office on January 25. As an outcome, PadMan will now hit the theatres on February 9.
While many praised Akshay for his generosity by allowing Padmaavat to enjoy an open field at the box office, it seems like Sidharth Malhotra, Manoj Bajpayee and the makers of Aiyaary were not happy with the current developments as their film will now have to compete with PadMan in theatres.
Recently, Bajpayee had to face the wrath of Akshay Kumar fans when he retweeted a tweet by a journalist who opined that Akshay was scared of the competition and hence postponed the release of his film and criticised the actor saying that they made way for the other film.
Bajpayee, however, didn't mention Akshay or his film PadMan, but netizens were smart enough to read the subtle signs thrown by the actor by decoding what he actually intended.
Soon after receiving backlash, Bajpayee deleted the tweet. He was later quoted as saying by mid-day, "I retweeted a journalist friend's statement and soon after realised that fans of Akshay Kumar were trolling me. I didn't even know he had postponed his film. It was a mere coincidence."
Meanwhile, a Twitter handle called '@BollywoodGandu', which is known for taking jibes at Bollywood celebrities, had posted a meme which explained the entire episode of Aiyaary and PadMan box office clash. And interestingly, the post was liked by both Sidharth and Bajpayee on Twitter.
Even Aiyaary film's official Twitter handle welcomed the clash with a quirky reply which reads, "Good to have you back! See you on 09.02.18."
Aiyaary was supposed to release on January 26 and clash with PadMan earlier. But when Padmaavat release date was announced, the makers of Aiyaary shifted their release date to February 9 thus avoiding the massive clash. And now since Akshay has pushed the release date of PadMan to February 9, Aiyaary will once again face competition with the film.
While it is a bit difficult to decode exactly what Sidharth, Bajpayee and the makers of the spy thriller meant to say about the clash with PadMan, it will be interesting to see which film will be benefitted at the box office.