"Siddhartha" marks the debut of Vinay Rajkumar, the grandson of legendary Kannada stalwart Dr. Rajkumar. The movie is directed by Prakash of "Milana" fame and has Apoorva Arora in the female lead role.
Expectations are always high when a movie from the Rajkumar family releases; and it is no exception this time too. More importantly, "Siddhartha" will be the debut movie of late Dr. Rajkumar's grandson and Raghavendra Rajkumar's son.
Fans are eager to find out if Vinay shows signs of continuing the legacy with his debut movie "Siddhartha". The trailer and audio of the Kannada flick have successfully generated positive reviews.
"Siddhartha" has V Harikrishna's music and Krishna Kumar's cinematography. It is produced by Vajreshwari Combines, which had last produced Dr.Rajkumar's "Shabdavedi".
As per the audience and critics, like a usual debut movie of stars' kids, "Siddhartha" does not portray Vinay Rajkumar like a mass hero or does not have over-the-top dialogues. It is a simple story of a boy falling in love with a possessive girl. The hero needs his own space and takes 20-day break. What happens next is the crux of the story.
Vinay has made a decent debut by showcasing his dancing and fighting skills. The youngster should work on acting as it is not up to the mark. Below, we bring some tweets related to the movie: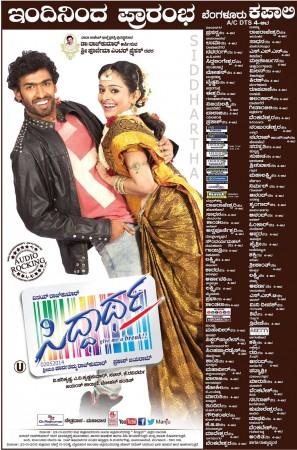 Sandesh Mysore Writes:
#Siddhartha puneet action n shivanna dance
Cnflct btwn frndshp n love #Siddhartha
Take a brk #Siddhartha decent stry slooww narrration 2.5/ 5
Movie Lovers Tweets:
Exclusive:#SIDDHARTHA 1st half report Both #VinayRajkumar & @ApOOrvAArOrA96 will steal ur hearts. Perfect Youthfull Entertainer. Rating:4/5
#SiddharthaInKapali: Get ready folks for another FANS CLUB. #KFI gets a new dashing hero. #VinayRajkumar will shine.. #MovieLovers
#SIDDHARTHA FINAL VERDICT: A perfect debut movie for any hero. Hats off to @prakashjayaram. Rocking performance,brilliant music. Rating:4/5
#SIDDHARTHA FINAL VERDICT: Forgot to say #KFI gets another cutie who can perform well @ApOOrvAArOrA96. Stay tuned for complete review
Shyam Prasad Writes:
#Siddhartha one fight, one song over.
#Siddhartha boy goes nude. Boy meets girl. One more fight
#Siddhartha oppkonDbuTlu kaNla preeti maaDoke
#Siddhartha interval. Felt like a long one hour.
#Siddhartha the shrew is tamed. All well that ends well.
#Siddhartha long lasting film. Going on and on
#Siddhartha Jayant Kaikini lyrics gottaagtilla first time
#Siddhartha 3/5 Above average. Second half should have been much better
Shashiprasad SM Posts:
#Siddhartha does a #PK pose but with guitar !!!
0 replies 0 retweets 0 favorites
#Siddhartha not even 30 min into the movie, already 2nd build up fight. Give me a break!!!
#Siddhartha Kannada songs vs Hindi songs. Give me a break!!!
#Siddhartha Raghavendra Rajkumar along with the debutant son VinayRajkumar in #Kapali.
#Siddhartha gets a break for 20 days!!!
#Siddhartha Oh give me a break. Yet another movie with climax attached to Wedding D Day
#Siddhartha Now the heroine seeks ONE YR BREAK. Break Mel Break Mel. Give me a breaaaaak!!!
Cineloka Writes:
#Siddhartha - Interval. So far so good. Scenes btw Vinay and @ApOOrvAArOrA96 are lovely.