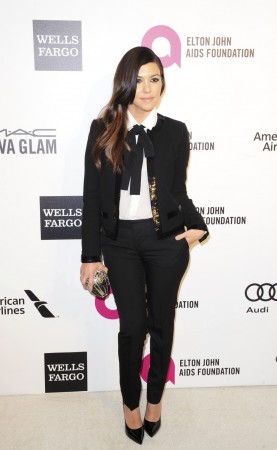 All is not well between the Kardashian sisters. Apparently, Kourtney and Kim Kardashian are at loggerheads over their wedding plans as the sisters want exclusive wedding and each of them doesn't want to be overshadowed by the other.
Kourtney is planning to tie the knot with her partner of seven years, Scott Disick, whereas Kim is all set to walk down the aisle with fiance, Kanye West.
Kim and West have decided for a summer wedding and their grand wedding plans have reportedly perturbed Kourtney.
"Kourtney has already seen Kim have an over-the-top wedding with Kris Humphries and now she's watching her sister turn her Kanye West date into another big affair and she's getting mad that her own wedding is going to be overshadowed," reported Radar Online.
Although Kourtney and Disick are not as popular as Kim and West, fans believe the former deserves an unforgettable wedding.
"Kourtney wants her wedding to be just as spectacular as Kim's," the source added.
Kim and West have decided to get hitched in the romantic city of Paris and speculations indicate that West is going to make the wedding an exclusive extravaganza considering his insane love for Kim.
On the other hand, Kourtney and Disick are looking forward to a wedding in Mexico.
Amongst the Kardashian sisters, Kim is more popular and her fame has only increased after the birth of North West last year. Kourtney is reportedly tired of living in Kim's shadows and does not want her wedding to be overcast by her sister's popularity.