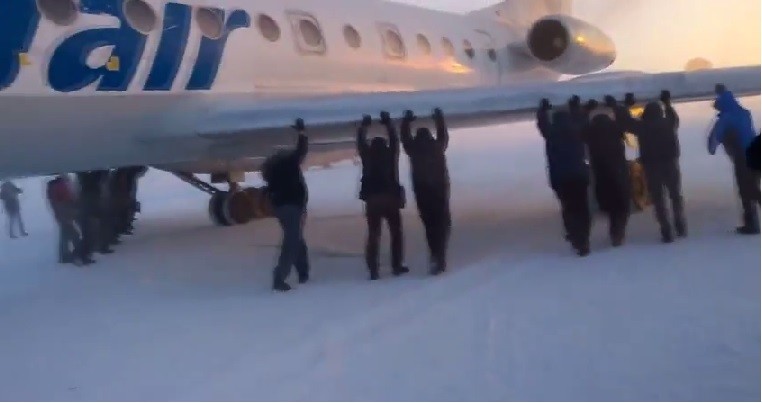 No one's travel itinerary includes pushing a passenger aircraft stuck in snow, but those aboard a Siberian airline called Katekavia on Tuesday had to do just that, after the aircraft's chassis froze.
The astonishing story received internet fame after one of the passengers posted a YouTube video, in which a bunch of jolly passengers are seen pushing the flight on the snow-covered runway in Igarka. The passengers in thick winter coats and fuming fog shout "Let's go", as they shove the Tupolev plane several metres along the runway and onto the taxiway.
Another passenger says "Everyone wants to go home". Passengers reportedly pushed the plane until it was able to turn, after which the tow truck took over. The journey after take-off was hassle-free.
Transport prosecutors told The Sydney Morning Herald that the incident which occurred in Igarka, which is beyond the Arctic Circle, would be investigated. "Due to the low air temperatures, the chassis' brake system froze and a tow truck was unable to move the plane onto the taxiway to carry out the flight," the prosecutors informed in a statement.
Meanwhile, Vladimir Artemenko, the technical director of Katekavia revealed on Rossiyskaya Gazeta that the pilots had forgotten to take off the parking brake from the flight that stood in the runway for around 24 hours, causing it to get stuck in the snow: "That morning it was minus 52. The plane had stood on the runway for 24 hours and the pilots forgot to take off the parking brake. That caused the brake pads to freeze up," he said.
While Russians are known for their endurance of the cold, to push a humungous aircraft in minus 52 degrees is appreciable. The chutzpah of the 72 passengers on board is being applauded, with the Komsomolskaya Pravda daily proudly stating, "Siberians are so tough that for them pushing a frozen plane along a runway is a piece of cake".