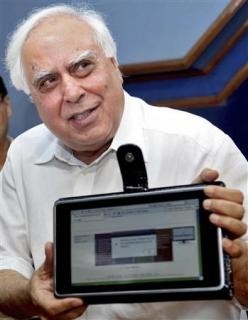 Seeking to reverse Narendra Modi's dig at Congress' false promises of giving out free laptops to poor students in the state, Union Minister Kapil Sibal said he will publically present the Aakash tablet Version-2 to Modi on Sept 22.
"After receiving the tablet, Modi may think about taking back his statement," Sibal said according to the Press Trust of India.
On Wednesday, Modi spewed venom at rival Congress for its election campaign promises of giving free laptops for students if it comes to power. The union minister mocked the ruling party, saying that the Congress shows no signs of carrying out their promises of the much-hyped tablets.
"He (Sibal) had said the world's cheapest PC would be made available to students at Rs 3,000. Mind you, it was not for free, you had pay for it," Modi said on the occasion of Teacher's Day, according to IBN Live.
"Eleven months have passed by, but no Aakash tablet has come down to Earth...Now I realise why this gizmo is named 'Aakash' (pun intended - sky)," he added.
In a response to his statements, Sibal said he was surprised by Modi's remarks and said, "He is maintaining silence since 2002...Modi may be rich in politics but is poor at heart. In the next five to seven years, each child will have the Aakash tablet."
Meanwhile, the Gujarat chief minister on Thursday took a dig at Delhi government. Speaking at the inauguration of Asia's first Bus Rapid Transit System (BRTS) conference, Modi said Gujarat has surpassed the national capital in its BRTS performances.
He also announced a Multi-Modal Affordable Transport Authority (MATA) plan for the urban areas of Gujarat."Gujarat succeeds where Delhi fails," he said.