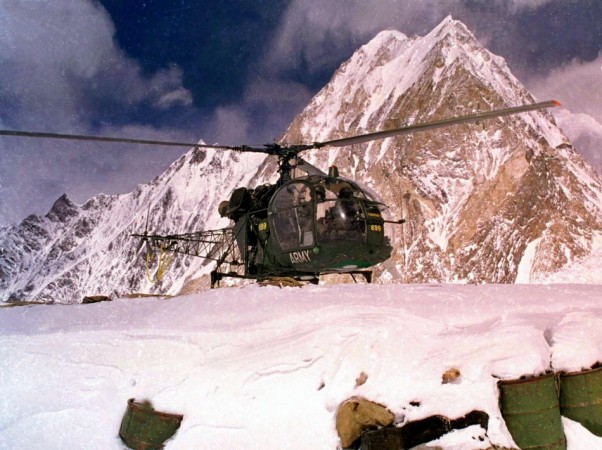 UPDATE 16:19 IST: Lance Naik Hanumanthappa is reportedly in an "extremely critical" condition, with NDTV reporting that he is in coma.
Doctors at the Army hospital in Delhi where the Indian soldier has been admitted have said that he is likely to see a "stormy course in the next 24 to 48 hrs", ANI news agency reported.
UPDATE 13:34 ISt: Prime Minister Narendra Modi and Army Chief Dalbir Singh reached the Delhi hospital where the avalanche-surviving soldier has been admitted.
UPDATE 12:55 IST: Lance Naik Hanumanthappa has been taken to RR Hospital in Delhi, where he is reportedly undergoing a primary test in the ICU.
UPDATE 10:39 IST: Lance Naik Hanamanthappa, the soldier found alive six days after the Siachen avalanche, is currently on ventilator and was being brought to Delhi, ANI news agency reported. He will be taken to Delhi's RR Hospital.
Original story:
An Indian soldier who had been buried under an avalanche along with nine others at the Army's Siachen Glacier post last week has been found alive, reports said on Tuesday.
The Indian Army had declared the 10 soldiers, including nine jawans of the Indian Army's 19 Madras battalion and one junior commissioned officer (JCO), as presumed dead after they were trapped in an avalanche that came crashing down on their post situated at 19,600 feet on the Actual Ground Position Line, which is India's border with Pakistan at Siachen. The incident occurred on Feb. 3.
While five bodies were recovered, one jawan was found buried alive under 25 feet of snow, the Press Trust of India reported.
"It was a miraculous rescue, all efforts are being made to evacuate Lance Naik Hanaman Thappa to the RR hospital in the morning," Lt Gen D S Hooda, Northern Army Commander, told the agency. Lance Naik Hanamanthappa, who hails from Karnataka, was reportedly found with a faint pulse and is said to be in critical condition.
"Five bodies have been recovered so far and four bodies have been identified. All other soldiers are regrettably no more with us," the official said.
The army had said earlier that chances of finding any survivors were "very remote". Indian Prime Minister Narendra Modi had also tweeted condolences to the families of the soldeirs and "saluted' them.
The Siachen Glacier is the highest battlefield in the world.