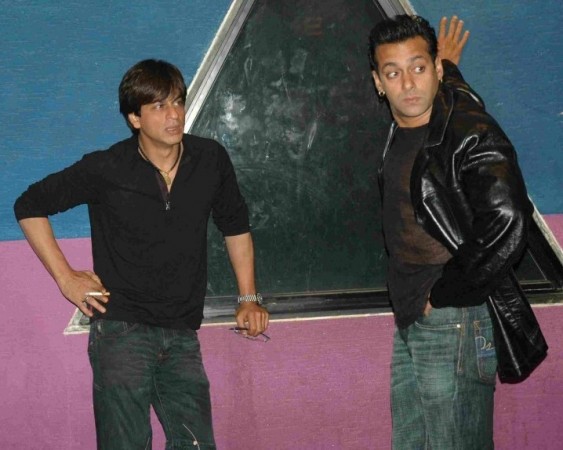 Endless speculations surrounding superstar Shah Rukh Khan's absence from the latest season of Karan Johar's chat show "Koffee with Karan" have been doing the rounds. And according to them, it is not related to Salman Khan's presence.
Johar's show has drawn various reactions every time. And so when the director's once dear friend Shah Rukh gave the show a miss this season, the reason was thought to be the filmmaker's sudden friendliness with Salman Khan and Aamir Khan, whom he had invited to the show this season.
However, the speculations have now pointed out some more reasons for SRK's absence.
The most prominent being an alleged tension brewing between Johar and the "Chennai Express" actor, after the latter rejected the filmmaker's ambitious project "Shuddhi".
It had recently surfaced that the superstar had listened to the "Shuddhi" script but ultimately rejected the offer through an email. Well that surely seems a rude way to refuse an offer, especially since both celebs had shared a strong friendship over the years. If that's the case, a tension between the duo is quite likely.
Meanwhile, some reports stated that SRK missed the show, since he had no movies to promote at that point. However, the actor's big budget project "Happy New Year" is coming up later this year, and early promotions could have worked in the film's favour, building up expectations. Hence, the no film promotion reason appears not quite convincing enough.
The 48-year-old's busy schedule, laden with health issues is another reason considered for his no-show. But that argument is hardly valid since SRK is known for going overboard, when it comes to his required commitments.
The actor was seen attending a wedding in Jaipur and was even present at a professional event, braving his serious knee injury earlier this year. And since "KWK' is more of a friendly appearance, busy schedule and health issues are definitely weak excuses for not showing up.
There have also been reports that the actor's association with the IPL has kept him away from the show.
Endless reports will continue to float on SRK skipping the show, till either the actor or Johar clarifies the situation. The filmmaker has dealt with rumours when it comes to his films but whether he would speak out on his personal life is a doubt.