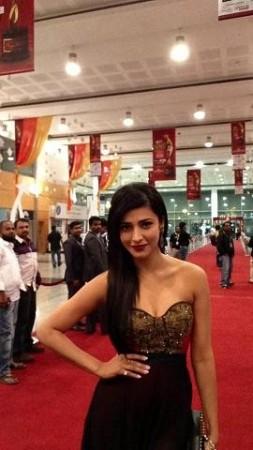 Refuting the media reports, celebrities Shruti Haasan and Suresh Raina have come out denying the dating speculations involving them.
On Friday, a leading daily reported that veteran actor Kamal Haasan's elder daughter Shruti was secretly dating cricketer Raina. The report hinted that the duo has been dating since last year and quoted a source saying that the celebs were serious about each other.
Soon as the report emerged, it led to wide speculations and grabbed headlines.
Even jokes on the celebs' romantic link up made way when Raina scored an impressive 87 runs of 25 balls streak for his Chennai Super Kings (CSK) team on the Indian Premiere League (IPL) cricket match on Friday.
But the dating buzz of Shruti and Raina has proved too good to be true as the celebs have now clarified that the link up reports are rubbish and has no clarity to it.
The "D Day" actress' spokesperson waved off the reports as rumours.
"There is no such thing about Shruti dating Suresh Raina. Shruti is very busy with work," Shruti's spokesperson told The Times of India.
The actress, even though did not speak up on the reports directly, shared the denial report on her Twitter account making her stand on the situation obvious.
Raina took to his social networking site to rebuff the link up claims and clarified that he was very much single.
Too many media reports which no one even tries to confirm. This is to clear once & for all. I'm not dating ANYONE

— Suresh Raina (@ImRaina) May 30, 2014
The dating reports of Shruti and Raina appear to have aggravated since the actress was often spotted cheering up for CSK in yellow jersey in IPL cricket matches. However, the actress was not spotted in any of the matches of her favoured team in this IPL season.
And soon after the Shruti-Raina link up reports had emerged, it was assumed that the duo would make up as the next actress-cricketer pair like Anushka Sharma and Virat Kohli, who have managed to grab the maximum headlines in the recent times.