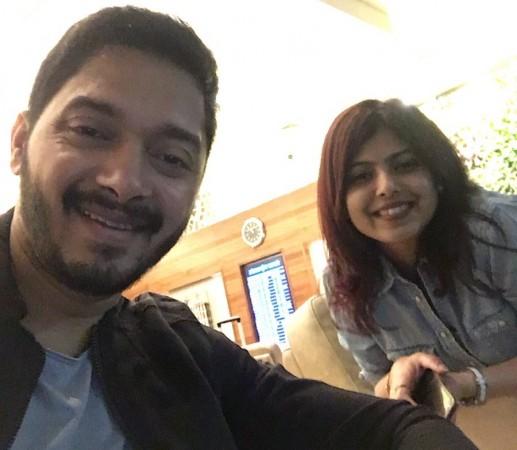 Golmaal actor Shreyas Talpade and wife Deepti Talpade have been blessed with a baby girl on May 4 via surrogacy. The couple, who have been married for the last 14 years, got the news mid-air when they recently flew off to Hong Kong for a much-needed vacation.
"The scheduled day for the baby's delivery was around 15th or 20th of this month. We had planned a small vacation to Hong Kong on the 7th. But the doctor suggested that the day of delivery might shift to around 10th or 12th. So we decided to go by the 2nd or 3rd and return by the 7th. After we landed in Hong Kong, we got ready, had our lunch and were heading to the cruise terminal since we had planned to go on a cruise," the proud newly become father Shreyas told Deccan Chronicle.
He added, "While we were on our way, we got a call from the doctor saying that the surrogate is gone into labour and that we would have to return. We immediately booked a flight on the same day and returned. The baby was born while we were mid-air so we headed directly to the hospital. Our baby has already got both of us wrapped around her little fingers. She is a little stubborn and it feels like she is telling us - 'Where are you going without me! Come back!"
The new parents are yet to decide a name for their first child. They have short-listed a few names and will decide in a day or two.
"We have shortlisted a few names but have not decided on a name yet. Friends too have been suggesting us many names further confusing us even more. But we will decide a name for our baby in a day or two," Shreyas said.
When he was asked why he chose surrogacy, Shreyas, without revealing more details, told Mumbai Mirror that there were certain issues and it was their doctor who told them that this was the best option.
The actor earlier used to feel apprehensive and nervous while asking himself whether he was ready for a child. But now he is loving the feeling of becoming a father for the first time and living every small moment with his newborn baby girl.
He told Mumbai Mirror that though his friends and family members have been telling him that his baby's forehead is just like his, while the lower half of her face resembles Deepti's, Shreyas feels that she looks more like his wife.
"I think she looks more like Deepti with her round face but her features are changing every day," he said.
For the new father, his newborn daughter is on top priority than anything else.
"I was to start shooting from May 15 but luckily for me the shoot has been pushed to June so I've got a month to focus on my baby. I've always wanted a daughter so I could buy her dolls, teddy bears and plenty of pretty dresses. I'm already planning what I can buy her when I go shooting. My wife thinks I'm more stressed out than her, but I'm just happy and want to give our daughter the best," he said.