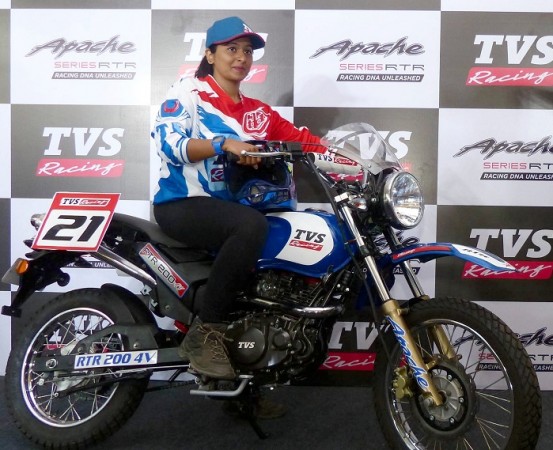 Bengaluru rider Shreya Iyer has been roped in by TVS racing for the upcoming two-wheeler Indian National Rally Championship. The 24-year old woman will join the ranks of Indian women racers.
Shreya will begin her career with K1000, which is the first round. There will be five more rounds after this. The girl from Bengaluru, however, has no experience in competitive racing as she has not participated in any of the stage rally events so far.
"I'm very passionate about riding, and it's great to be able to do that professionally. Training has been good so far, and I intend to give it my best. I've been working hard, and this is just the beginning," Shreya was quoted as saying by The New Indian Express.
Shreya is delighted to break the stereotype as motorsport has always been considered a male-dominated sport. A factory team like TVS racing have helped to break that stereotype. Shreya will be riding in the Group B class with her new TVS Apache RTR 200 in the National Rally Championship in the upcoming weekend. KP Aravind, R Natraj and AW Tanveer will be Shreya's teammates and these three were the national champions in 2015.
"Motorsport has always been considered a male-dominated sport, but it's actually not true. There have been so many women doing circuit racing and dirt biking. This is an opportunity to break the stereotype and encourage more women to ride. We need more women in this sport," Shreya told The Hindu.
"It will be a learning curve. [That she will now be racing against the clock] is the only tricky part. I'm running some trials and practising, getting an idea as to how a rally works. Hopefully I'll do well."
Shreya also faced resistance from her family initially when they got to know that she is interested in riding. But with time, they have supported her in her career.
"My parents were naturally concerned about my safety. I sat them down and talked to them. They're okay now. They've always stood by me. For me, motorcycling is liberating. I wouldn't like it if someone was going to curb that," Shreya added.