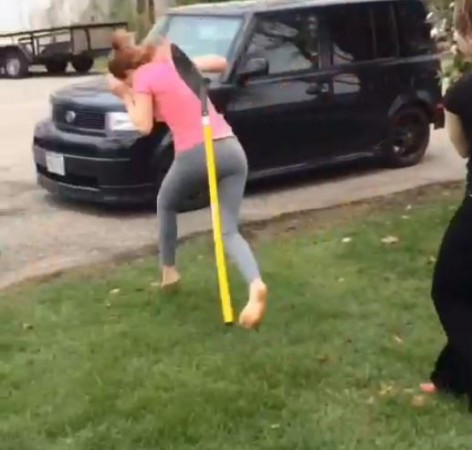 "Shovel Girl" Miranda Fugate became an overnight sensation when a video of her being attacked by a shovel went viral on May 5. But Fugate's attacker, Emily Powers, might land in a bit of trouble as police officials are investigating the incident.
The Vine video shows Fugate being hit on the head with a shovel by a teen and the Miami County Sheriff's office have put one of their deputies to investigate the case after the school where the girls are studying contacted them, according to TMZ.
Fugate's attacker could be charged with assault or disorderly conduct, the website reported.
The shovel attack took place while the two girls were fighting, allegedly because of a boy. While Powers got punched on the nose, Fugate had to deal with a hit on the head with a shovel.
But Fugate has made light of the matter and has been constantly tweeting about the incident on her Twitter account.
When people call me shovel girl pic.twitter.com/bTbYzNafvd

— miranda fugate (@miranda_fugate) May 7, 2014
Everyday I'm shoveling
A couple of days after the video went viral, Huzlers, a satire website, reported that Fugate was dead following head injuries.
"She was a good girl" Huzzler reported quoting Fugate's mother. "I mean, she was sort of a bully, but she did not deserve to get molly whooped like that, especially with a shovel right to the head".
The report added that Powers will not be charged with second degree murder, instead manslaughter as she was only protecting herself.
But the story turned out to be a hoax as Fugate took to her Twitter account to declare that she was alive.
I'm not fucking dead! Quit faking news articles!!!
[ED:VS]