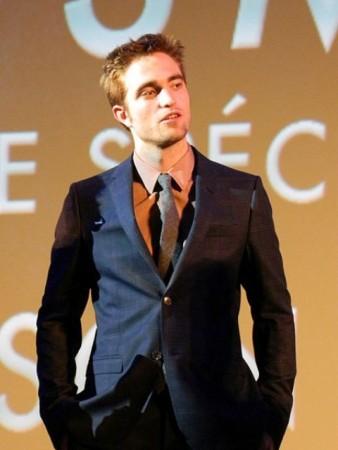 Robert Pattinson is constantly in news for his alleged link ups with various people in the entertainment industry, but since the success of the "Twilight" series, his acting career has not been as successful as his fans expected.
The British actor's best box office years might be way behind him, as he has not managed to deliver a successful film since the last film in the Twilight series released in 2012.
Since then Pattinson has had just one major release, "The Rover", and although he proved his acting chops in the movie, it did not touch the $1 million magic figure.
Interestingly, Pattinson has already figured out other options if his acting career does not take off. The 28-year-old has been concentrating on his music, and several reports claimed that he is now serious about his music career despite claiming otherwise in the past.
"I'm always playing and recording but I don't know. People hate when actors become musicians so I've been avoiding it for the longest possible [time]," he told reporters back in 2011, according to E! Online.
But now that the actor has reportedly admitted to being tired of acting, he might actually give his music a shot with some help from rumoured current girlfriend, Katy Perry.
Recently, at the premiere after-party for the actor's new movie "The Rover," the two were spotted kissing, sparking rumors that they are a couple.
"She looked gorgeous in a lace sequin black mini-dress, and they hugged and kissed," an insider told RadarOnline. "He kept kissing her the entire night."
Pattinson is believed to be crashing in with Perry, and she is in no mood to move him out of her house, reports indicate.
"They've had a couple of flings, but they're not properly dating," a source told British magazine Heat, according to Independent.ie. "Katy's still in touch with Diplo and Rob Ackroyd [both of whom she's also been linked to recently]. Still, she's in no hurry to move Rob out - they've even talked about living together."
Perry and Pattinson have been friends for a long time, and she was a source of support to the actor when his relationship with Kristen Stewart failed after she cheated on him with Rupert Sanders.
"Rob and Katy have never stopped being in touch - she loves the attention but also thinks he's really sexy and funny," the insider told Heat previously.
"The texting stepped up in January when things started going bad between Katy and John [Mayer]. Rob's been a real shoulder for her to cry on. Since she's been single, though, the texts have hotted up - she loves drunk-texting him and they're always flirty."