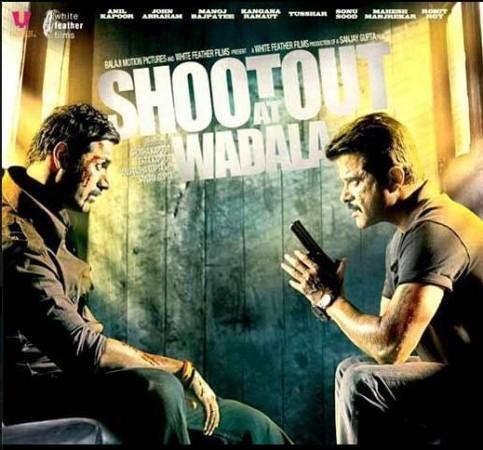 "Shootout At Wadala" is an action oriented film based on the book "Dongri to Dubai" written by journalist Hussain Zaidi. The film directed by Sanjay Gupta features an ensemble cast.
John Abraham, Kangna Ranaut, Anil Kapoor, Tusshar Kapoor, and Sonu Sood are playing the main characters in the action drama. It also features Jackie Shroff, Manoj Bajpai, Ronit Roy and Mahesh Manjrekar in supporting roles.
Critics have given positive review for the film and have appreciated the performances by John Abraham, Anil Kapoor and Manoj Bajpai.
Here are some of the critics' reviews:
Meena Iyer of The Times of India writes: "Sanjay Gupta's Shootout At Wadala largely draws inspiration from journalist-author S Hussain Zaidi's Dongri to Dubai-6 decades of the Mumbai mafia. But the maker takes the cinematic liberty of changing the material at hand to make his film and characters more engaging. Or should we say largely entertaining.
"15 minutes into the film you know Gupta means business as knives gash, guns explode, blood flows, actors mouth expletives galore and items girl gyrate shamelessly.
"SAW has two protagonists-Manya Surve( John Abraham) a bright college student from the 70s, who finds himself inexorably drawn into a vortex of crime. The other leading man is Aafaque Bagraan(Anil Kapoor) a trigger-happy cop who wants to clean up the streets of the maximum city.
"The other selling point of the film is Milap Zaveri's dialogue. Many of the lines are claptraps. But be warned, there's a liberal peppering of filthy lingo that will make you cringe. The performances are largely A-grade. Manoj tops the list.
"SAW ultimately belongs to Gupta, who stays true to the genre and makes a welcome return to the credible lot of Bollywood directors. Note: You may not like this film if don't have the appetite for blood and gore."
Mohar Basu of Koimoi.com writes: "Sanjay Gupta's Shootout At Wadala is better than the last Shootout edition. Outstandingly, John Abraham does keep true to his word of giving the most pleasantly conspicuous performance of his career. The film's well drawn out action sequences are delightful which makes the other loopholes in it seem faint.
"Based on the life of the 80s' gangster Manya Surve, the film's script follows the pattern of reality. A kind, loving and honest man entangles himself in the garb of his criminal brother's activities by being party to a murder. Surviving the intoxicating and menacing world of jail during imprisonment, Surve learns to play his trump right. Befriending, a co-inmate Munir, he flees from jail.
"Based on the book 'Dongri To Dubai' by the distinguished journalist Hussain Zaidi, the film's premise is well etched and powerful. Unraveling the life of a robust gangster, the script's strength lies in successfully creating the charisma and class of Manya Surve.
"As Manya Surve, John definitely delivers the most impressionable and memorable performance of his career. Anil Kapoor as the indomitable encounter specialist thrives. Manoj Bajpai and Sonu Sood bloom through their characters competently. Tusshar Kapoor plays his stint praiseworthily.
"Kangana Ranaut looks resplendent in her well formed lucid role that she unbeatably does radiantly. The John-Kangana chemistry though first of its kind is indeed lusturous.
"This one is a must watch adrenalin incurring, electrifying and at places a spine chilling action film."
Sneha May Francis of Emirates 24/7 writes: "Sanjay Gupta's action thriller about a wounded, divided Bombay of the 1980s is a great watch for all action movie-buffs.
"Blazing guns, ear-splitting action stunts, blood-soaked punches, sexy bombshells and macho men screeching till their facial muscles tremble or those running in slow motions, are all ingredients that dress up director Sanjay Gupta's newest bloody battle of the bad boys.
"Although, he has (partly) borrowed from the pages of S Hussain Zaidi's 'Dongri to Dubai', Sanjay does spin a gritty tale of deceit, betrayal, revenge and brotherhood to depict the "first-ever encounter" in Bombay.
"It would've worked, considering we've applauded Anurag Kashyap's two-part epic mafia warfare 'Gangs of Wasseypur' that ran into nearly five-hours of reel time. And, that too without any item girls. Sanjay, however, runs out of visual and creative elements to sketch out the menacing life of Manya Surve, who unlike his immoral peers, was ignored by history.
"'Shootout At Wadala' is definitely an honest attempt that chronicles Manya's eccentric life from a righteous simpleton to a bloodcurdling monster.
"Like his earlier movies, Sanjay's still unable to shake away the Hollywood influences, and this one has a scene straight off 'Reservoir Dogs', where the gangsters sit down to chit-chat about life and its curious theories."
Taran Adarsh of Bollywood Hungama writes: "SHOOTOUT AT WADALA narrates the story of Manya [John Abraham], who gets implicated in a murder case and is sentenced to life imprisonment. Manya flees the prison, returns to Mumbai and forms his gang. The cops launch Operation Manya Surve to curb his dominance...
"Besides encapsulating the rise and fall of Manya Surve, SHOOTOUT AT WADALA talks about the lesser-known aspect of his life: His love interest. And it is this attribute in Manya's personality that sets it apart from other gangster movies.
"Unlike some recent films, the action here is raw and real, reminiscent of the films of the 1980s. The action -- brutal, unrepressed and energetic -- is clearly a notch above the recent films that depict the hero bashing up rogues like we swat flies and mosquitoes. Unquestionably, it's one of the highpoints of the movie [Tinu Verma].
"Anil Kapoor reinvents himself yet again. So good is the veteran that you never get enough of him. Watch him lock horns with varied actors in the film and you realize, he's one of those rare actors who cannot be overpowered. Ever. Manoj Bajpayee glides into his character effortlessly and delivers a magnificent performance. Tusshar Kapoor springs a big surprise, making you believe in the character he's portraying on screen. Sonu Sood is electrifying. Mahesh Manjrekar doesn't get much scope, while Akbar Khan, Ranjeet and Jackie Shroff appear in cameos. Kangna delivers a wonderful performance [especially towards the final moments] and stands her own despite the presence of actors with challenging characters.
"On the whole, SHOOTOUT AT WADALA is a fire-brand, paisa vasool entertainer. Brutal and electrifying, it is one of those theatre-going experiences that has a plot, is packaged well and has content [drama, action, dialogue, songs, performances] that works big time with the avid moviegoer. Sanjay Gupta delivers a solid punch!"