A medical practitioner from Telangana got atop a 40-feet-tall telephone tower on Wednesday, November 15, and threatened to jump down, alleging that his wife slapped false complaints of domestic violence and dowry related harassment. And he wanted divorce.
The police had tough time cajoling B Ajay Kumar Rao, from Telengana's Arepalli village in Jagtiyal town, to climb down the tower where he perched on for more than four hours. He refused to come down until his wife, identified as Lasya, signed the divorce papers.
Ajay threw a letter from the tower explaining his grievances to the police in which he said, "My wife threw me out of my house after lodging a case second time two days ago. But, police are pressurising me to pay the rent. They (police) do not listen to me. Is there no protection for men?"
A Jagtiyal police inspector was quoted by Mumbai Mirror as saying, "Ajay and Lasya were married for seven years and they had differences. The couple has a daughter."
"Lasya had gone to her parents' place three years ago but returned after a patch up. However, after differences cropped up again, Lasya slapped dowry harassment under Indian Penal Code section 498A and also filed a domestic violence case against him," the official added.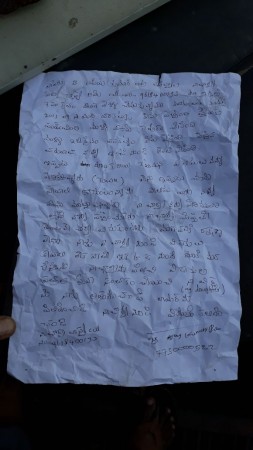 The police were finally successful in convincing Ajay to climb down the tower and later facilitated the divorce after counselling the husband and wife.
The medical practitioner also sought the custody of his daughter and said, "Vexed, I took this decision to jump from the tower if justice is not done to me."
A similar incident of alleged false domestic violence against a 30-year-old had taken place in Nagarkurnool district of Telengana. Patlavath Raju was allegedly beaten up by the police sub-inspector of Talakondapalli over domestic abuse complaints raised by his wife. Later, Raju was found dead, consuming poison.
Later, the family of the deceased found a video on his mobile phone in which he alleged that he was tortured by the police officer.
Raju also posed a question to Chief Minister K Chandrashekhar Rao in the video: "KCR sir, you have given them (police) a great order. It seems you have asked them to kill anyone who troubles women. Yes, I got married five years ago and they (wife and family) gave a complaint against me. They should inquire about the mistakes made by my wife and I. Why have they beaten me without an inquiry?"