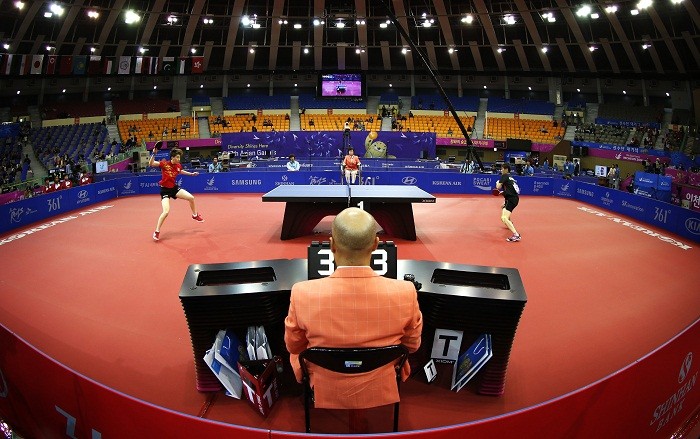 A recent CCTV footage has brought shame to the Indian Table Tennis fraternity, where a 19-year-old coach can be seen dragging a female out of her room.
The president of Chhattisgarh State Table Tennis Association, Sharad Shukla stated that it was 'a fight over a telephone and nothing else.'
The incident took place on 26th of December, 2014 during the 76th National Cadet and Sub-Junior Championship held in Andhra Pradesh.
There were 16 players from the state of Chhattisgarh participating in the competition.
A preliminary investigation took place regarding the matter and the Chhattisgarh State Table Tennis Association suspended the player and coach from the upcoming National Games.
Sharad Shukla, the president of Chhattisgarh State Table Tennis Association told NDTV: "I got a report of this incident on 31 December. It occurred on the night of 26 December.
"We found out that the player and coach were fighting over a mobile phone, which was seen on the CCTV footage. This is a fight over a telephone and nothing else.
"We have suspended both coach and the player until [further] inquiry."
But, the incident has reached the Table Tennis Federation of India as well, and they want a complete report before taking any action.
"This unfortunate incident came to us only two days before," Dhanraj Choudhary, general secretary of Table Tennis Federation of India said.
"We have asked the Chhattisgarh association to give us the complete report. Till we get the report, I cannot comment.
"We have told the state association that we want an independent and neutral inquiry and want to know what exactly happened. Really unhappy about the nomination of a 19-year-old as coach. We will take serious view and action against the association.
"We have an executive board meeting on January 17. We will discuss this matter there."
Taking moral responsibility for the entire episode, the secretary of the Chhattisgarh Association also resigned from his post.
By the looks of the CCTV footage, one would not be able to conclude as to what really transpired between the two for them to react in such a manner.
But, one would only be able to know about it when an official report is submitted by a three-member panel, which has been set up for the purpose.
The footage, after it has come out in the open has surprised many. One Indian female table tennis player, Neha Aggarwal tweeted, 'This is shocking "@ndtv: Female table tennis player, male coach suspended after shocking CCTV footage emerges http://goo.gl/P505hO '
While one Twitterati expressed surprise for the girl being suspended over the incident. She tweeted, 'Why was the girl suspended?? Female Table Tennis Player, Coach Suspended Over Shocking CCTV Footage' from her Twitter handle, @TaraSandhu.