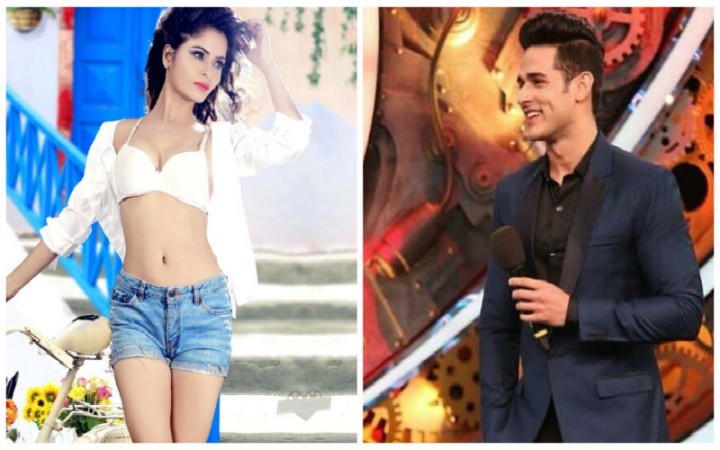 South actress Gehana Vasisth seems to have no plan of ending her tirade against Bigg Boss 11 contestant Priyank Sharma as the former has come up with yet another serious allegation against him.
Gehana has now called Priyank a "woman beater". Yes, the actress said that Priyank had a girlfriend whom he used to physically assault.
"I cannot reveal the name of the woman, but a woman from Delhi who was closely associated with Priyank Sharma and also was in a relationship with him for a very short while told me that Priyank Sharma is a woman beater. I cannot call him a wife beater because Priyank was not married to that woman, but yes, Priyank used to hit her and assault her in the short span that they were together."
"The woman claims she was in a relationship with Priyank Sharma for a few months and it was a one-sided affair. After about two weeks, she realised that Priyank Sharma was two-timing her and that he was also seeing another girl. But she was in love with him and she thought he would change. She kept up the relationship for about 4 months, but Priyank never changed. During these four months, he must have assaulted her at least 5 to 6 times," Gehana said.
Gehana's manager tweeted the same and Gehana retweeted it from her official handle. "Hey @BiggBoss @ColorsTV @BeingSalmanKhan do you know that @ipriyanksharmaa is a woman beater?" the tweet read.
Earlier, Gehana had made some other allegations too against the popular Bigg Boss 11 contestant. She had said that Priyank is already engaged to a girl from the US, and was two-timing his girlfriend Divya Agarwal.
She had even called Priyank "dog", saying that he is someone who would sleep with anyone for money. She has been making scandalous comments not only about Priyank but many other Bigg Boss 11 contestants.