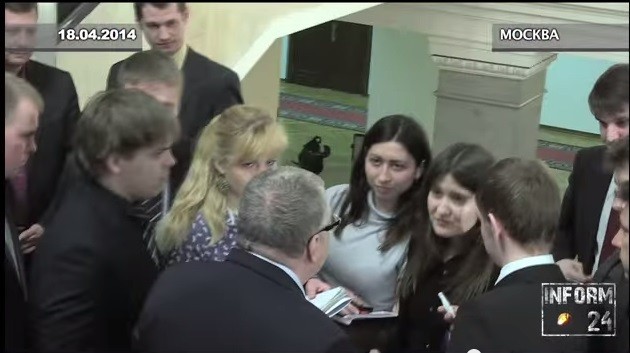 Vladimir Zhironovsky, a senior Russian politician, has been filmed ordering two of his male aides to "violently rape" a pregnant journalist, during a press conference in the state Duma.
In the incident, which has now gone viral and has been described as a "disgrace to the Russian parliament", the pro-Kremlin leader of the populist nationalist Liberal Democratic Party started abusing Russia Today (Rossiya Segodnya) journalist Stella Duboviskaya with a series of misogynist and homophobic rants, after he was asked a question regarding the crisis in Ukraine.
Zhironovsky supposedly launched his horrendous tirade after Duboviskaya asked him about sanctions against Ukraine, the Daily Mail notes. The journalist is now recovering in hospital, after she suffered shock due to the threat.
As TV cameras and other journalists watched, Zhironovsky was asked by Dubovitskaya if he felt there should be a diplomatic response to Ukraine, banning the entry of Russian men, the Independent reported.
The Russia Today journalist was taken aback by the response her question prompted. According to the translation by the channel, the 67-year-old started by saying that politicians in Ukraine were "nymphomaniacs" - using a clichéd derogatory phrase "uterine frenzy".
In what went on to become a shocking and senseless rant, the pro-Kremlin politician went on to suggest that the reporter herself was likely to be a "nymphomaniac". When he was asked to stop misbehaving towards a six-month pregnant woman, he replied: "This is no place for you if you're pregnant... We need healthy people. Pregnant women should not show up at work. Sit at home and look after your child, got that?"
What followed was a never-before-seen bombshell of a shocking remark. Apparently seeking to prove his point, the man then shoved two male aides towards Dubovitskaya and said: "When I say, you run to her and violently rape her."
"Go and kiss her. Grab her," he is heard saying later.
When one of the men started touching Dubovitskaya, responding to the politician's order, another female journalist tried to intervene. The other journalist, recognized as Yulia Chuchalova who reports for the news agency Interfax, appears to have told the politician his actions were "derogatory" and "humiliating", to which he responded: "What are you doing intervening here, you lesbian? Get out of here."
"Get out of here, you damned lesbians", he continued shouting.
Watch the Shocking Video Below:

Russia Today has stated that the channel will use all its legal options to punish the notorious politician as severely as possible.
"Due to the disgusting incident in the state Duma, after which our correspondent was hospitalized because of Vladimir Zhirinovsky's discourtesy, we have decided to use all legal optiosn to punish Mr Zhirinosky as severely as possible under the law, including by suing him," Daily Mail quoted the editor in chief of Rossiya Segodnya of RT as saying.
(Ed: VP)