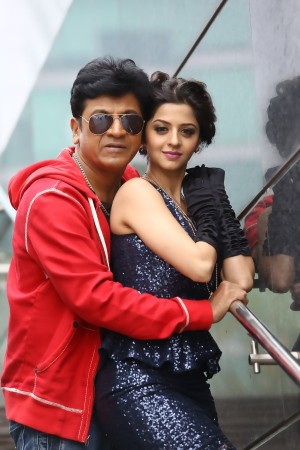 P Vasu, who has given blockbusters like "Apthamitra" and "Drishya" in the past, is back with "Shivalinga". He has teamed up with Shivaraj Kumar, who is basking in the success of Ram Gopal Varma's "Killing Veerappan," for his latest venture.
Vedhika plays the female lead in "Shivalinga". Urvashi, Ashok, Vinaya Prasad, Avinash, Pradeep Rawat, Malavika Avinash, Sadhu Kokila and others are in the cast. V Harikrishna has composed the music, PKH Das has handled the cinematography and Suresh Urs is the editor of the Kannada film.
The trailer and the audio of "Shivalinga" have generated a lot of positive buzz around the flick. Adding to that, both Shivaraj Kumar and P Vasu are returning after tasting success with their respective films. Hence, the audience have pinned high hopes on the Kannada movie.
The director's fascination for horror genre continues with "Shivalinga". Shivaraj Kumar plays the role of a CID officer in the film. He gets a mysterious murder case to solve, which makes the hero realise that it has a connection to his personal life and this becomes the interesting part of the story.
Average Ratings Given by Audience: 3
Reviews:
"Shivalinga" has opened to positive reviews from the audience. People on social media claim that the film reminds them of P Vasu's earlier blockbuster "Apthamitra." Shivaraj Kumar and Vedhika's performance have been praised along with PKH Das' cinematography. Here, we bring to you the viewers' response to the Kannada movie:
Priyanka tweeted
P Vasu obsession to horror genre continues in #ShivarajKumar's #Shivalinga.
#ShivarajKumar is impressive as a CID. #Vedhika @Vedhika4u continues to better with her each movie. #Shivalinga.
P Vasu is still in the "Aapthamitra" hang over... his choice of subjects are so similar....#Shivalinga too is no different...#ShivarajKumar
#Shivalinga turns out to be a well-made film....#ShivarajKumar
Shashiprasad S M wrote
Guess who designed #costume for #Shivarajkumar in #Shivalinga !! It's #GeethaShivarajkumar #Sandalwood #Kannada
#Shivalinga #interval P Vasu's halucination touch.
Cineloka.co.in posted
#Shivalinga - Interval. Typical P.Vasu Thriller. Reminds you #Aapthamitra.
#Shivalinga -The crowd erupts when the Title track comes on screen. One of the finest compositions of @harimonium. Movie towards climax.
P Vasu Shows Why he is the Best When it Comes to Such Genre Movies. #DrShivanna, Vedhika, Sadhu Maharaj & Urvashi Steal the Show #MustWatch #Shivalinga: Well Crafted Family Entertainer.Reminds of Classic #ApthaMithra. Fabulous Performances By Every1. 3.5/5
NamCinema.com wrote
#Shivlinga first half sets up movie very well with all right ingredients - Another on the way Hit for Shivanna?
@Vedhika4u @VaishaliDeepak
#Shivalinga well made suspense/horror thriller :) #Shivanna & @Vedhika4u shines! Complete review soon! Book your tickets now :)
@ShivuaDDa
S Shyam Prasad wrote
#Shivalinga U/A, 150 minutes begins...
Interval. Super. APTHA-ShivaLinga
Book your tickets NOW
Sunayana Suresh posted:
P Vasu truly is a masala maker. He knows what the masses like. #Shivalinga has all that one expects and more.