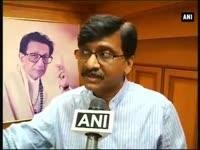 Shiv Sena, one of the most important parts of the centre's ruling National Democratic Alliance (NDA) government, has demanded the removal of the words "secular" and "socialist" from the preamble to the Indian Constitution.
The issue came to light when a Republic Day advertisement issued by I&B Ministry showcased the preamble's picture -- taken before the 42nd Amendment -- without the words "secular" and "socialist."
Though the NDA government defended Shiv Sena and said that the error occurred as the image was from the time when the 42nd amendment hadn't been made, senior Shiv Sena leader Sanjay Raut stood his ground and said that India has never been a secular power and has always been a Hindu rashtra, reported India Today.
Raut told reporters in Mumbai that the words "secular" and "socialist" were never a part of India's preamble and therefore must be omitted immediately by the ruling government, inviting the ire of the opposition.
Meanwhile, Minister of State for Information and Broadcasting Rajyavardhan Singh Rathore too explained that the image which appeared on the ad was the "original" one and was taken before the 42nd amendment.
"Let me assure you, we are celebrating the 66th Republic Day, that is, we are celebrating an anniversary of the Preamble that was made way back then. The photograph that we have put is of the first Preamble that our great leaders had made at that point of time," he said.