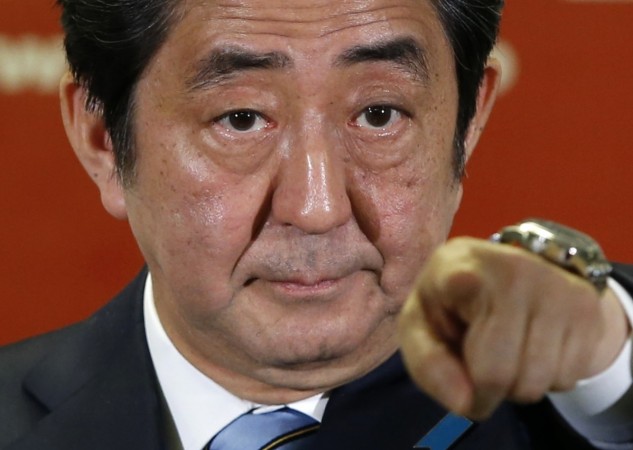 Japanese Prime Minister Shinzo Abe and his Liberal Democratic Party (LDP) cruised to a big win in the snap elections on Sunday, which shows that his economic policies dubbed "Abenomics" are here to stay.
LDP and its junior party Komeito party won 326 seats in Sunday's election. A party requires 317 seats to maintain majority in the 475-memner lower house of the parliament and Abe's part managed to surpass the mark significantly.
The LDP also won 75% of the seats in single-member districts, which account for 295 seats in the lower house. Though Abe's party won by a good margin, the voter turnout was disappointing. Turnout hit new post-war lows at 53.3%, well below the 59.3% recorded in the 2012 elections.
Prime Minister Abe told local news outlets that he was "relieved the ruling party coalition has won a majority and the government has been maintained."
The premier also acknowledged the low turnout saying:
"We need to improve voters' trust in politics. The economy is our priority -- we will ask business leaders to raise wage in April and make sure the recovery spreads to the whole economy."
Shinzo Abe called for a sudden round of elections on November 18 and dissolved the lower house of the parliament a few days later. The snap elections were supposed to be a referendum on "Abenomics" – Abe's three point economic policies of structural reforms, public investment and cheap credit to revive the economy, which has slipped into recession under his watch.
Many questioned the mid-term elections and the effect of Abenomics on Japan's economy too. Some lost faith, some were confident but as the world watched the orient's faltering growth, Abe felt the need to validate his power.
"My priority is economic recovery and Japan's proactive contribution to peace. We hope to create laws that help protect the security of the Japanese people, Shinzo Abe was quoted by The Guardian.
Analysts say that the result of the elections would be good for shares in the near future but bad for the currency at the same time as Abe sticks to his "Three Arrows" strategy.
"...medium-term, investors will be watching to see if Japan is changed structurally," Tsuyoshi Ueno, senior economist at NLI Research Institute told Reuters.
Experts also added that they don't expect big, old moves from the Abe government.
"My expectation is that we will get pretty much more of the same. I don't expect any big, bold moves," Gerry Curtis, professor at Columbia University was quoted by the Sydney Morning Herald.