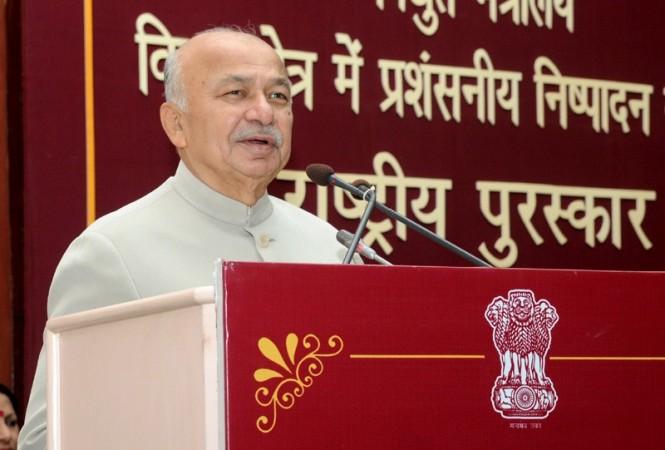 Union Home Minister Sushil Kumar Shinde extended his Eid-ul-Fitr wishes to his Pakistani counterpart Rehman Malik on Monday, and voiced concerns over Pakistan's alleged misuse of social media to stir communal uneasiness in India.
The Indian Home Minister sought Pakistan's full cooperation in checking and neutralizing the inflammatory content.
Shinde took up the issue of Pakistan-based groups' involvement in triggering last week's mass exodus in India with Malik, over the telephone. It was Shinde's first official conversation as Home Minister with the Pakistani Interior Minister.
Last month, Shinde was elevated form Minister of Power to the Home Minister position in a UPA Cabinet reshuffle.
India's Home Ministry on Sunday said that rumours of target attacks against North-East communities originated from some elements in Pakistan. The officials are of the opinion that most of the threatening SMSes and morphed images that were circulated online came from neighbouring Islamic nation.
Malik has assured to look into the charges made by India, if the evidence was to be provided.
While the Indian Union Home Minister conveyed his Eid wishes to him and the people of Pakistan, Shinde also expressed the hope that the occasion would herald an improvement in Indo-Pak relations.
The long-pending Mumbai terror attacks issue was also figured during the conversation between the ministers of the two nations. Pakistani Interior Minister briefly spoke of the pending issues between the two Ministries and reiterated his commitment in bringing the masterminds and perpetrators of the Mumbai terror attacks to justice.
Meanwhile, Malik also invited Shinde to visit Pakistan to sign the revised Visa agreement consented by both sides. Both the ministers agreed to continue with mutual cooperation and to work towards eliminating terrorism in all its form and manifestation.