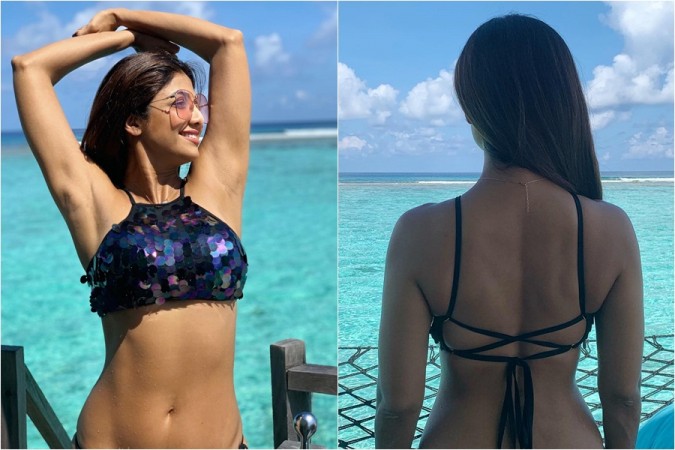 Remember Shilpa Shetty's dazzling performance when she grooved on the popular track Shut Up and Bounce from Karan Johar's Dostana in 2008 where she was seen flaunting her well-toned curves? Well, this Bollywood's 90s bombshell yet again has made hearts of thousands of her fans racing when she gave them a glimpse into her extravagant holiday in the Maldives.
The 43-year-old actress along with her husband Raj Kundra had flown to the tropical nation to celebrate their ninth wedding anniversary on November 22. During her vacation, Shilpa slipped into a skimpy swimsuit and was seen flaunting her beach body in the backdrop of the picturesque view of the Indian ocean.
Her fans have been gaga over her lean and well-toned body as one mesmerised user commented, "Curious case of shilpa shetty,it seems you are growing young ,even looking more young nd gorgeous than b4 [sic]." And there were many who couldn't stop gushing about this ageless beauty.
Sharing her sizzling pictures on Instagram, Shilpa wrote, "Soaking in the Maldivian Sun and loving it..If I had my way, would live here or the rest of my life."
In another Instagram post, Shilpa uploaded a couple of videos of the crystal water where you can spot an Octopus and a few fishes moving just outside their water villa.
She wrote, "The beauty and mechanisms of nature don't fail to surprise me.. Didn't even need to go #snorkeling .. found Mr Octupus and this colourful marine life just outside our water villa..to see how he camouflaged himself on the rock was incredible, we caught it at the spur of the moment.. and what a moment it was!"
Shilpa also posted an adorable picture from her romantic beach date where the couple shared a kiss in the backdrop of an area which was decorated with white curtains, pillows and two swans made from white cloth.
Take a look Shilpa Shetty's Maldives holiday pictures here.