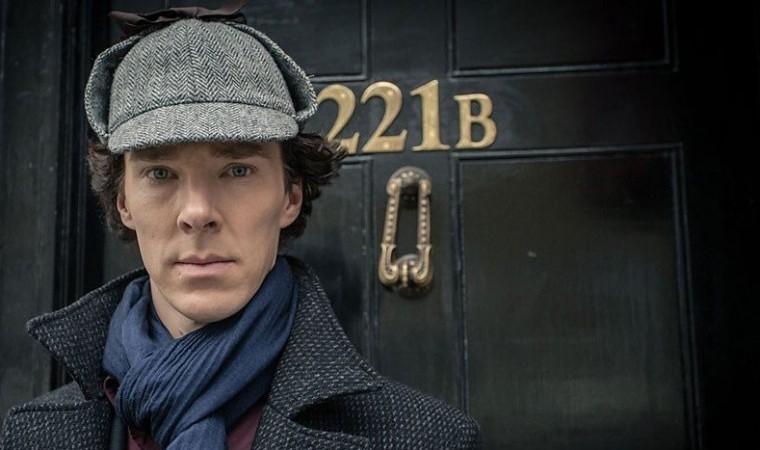 Notwithstanding the fact that the famous detective drama, "Sherlock" will not come to televisions before 2016, fans found some consolation in learning that shooting for the fourth season of the series has already begun.
Co-writer Mark Gatiss, who plays Sherlock's brother 'Mycoft' in the hit show, took to Twitter to share the news with fans on Monday. "On my way West. It begins... #Sherlock," he tweeted.
"The Imitation Game" star Benedict Cumberbatch and "The Hobbit" actor Martin Freeman will reprise their roles as Sherlock Holmes and Dr. John Watson, respectively. The series is based on Sir Arthur Conan Doyle's classic series.
This week the crew headed to Bristol, where the scenes for the upcoming special episode are being shot. Cumberbatch was spotted on the set on a rainy day and was seen wearing a sharp suit with a long coat as he left in a car after the shoot at Colston Hall on Wednesday.
Just sometime after the crew reached Bristol music venue – Colston Hall – Gatiss went on to post a picture of a clapperboard on Twitter. The picture featured a moustached face in the 'slate' box and the caption for the image read: "Element-hairy, my dear Watson!"
The special episode of the detective series will air in December, while the Season 4 episodes with will follow in 2016. The Producers -- which includes Gatiss, Steven Moffat and his wife Sue Vertue, and a few others – had hinted earlier that fans can expect "big changes" in the "devastating" new episodes of the show.
"Expect tragedy as well as adventure, that's just how it goes. Just because it's in the stories, doesn't mean it'll happen in the series. There's an awful lots of changes and an awful lot of places to go and things to do," Gatiss told Radio Times last November, The Independent reported. Gatiss' statement led to immense speculation about the upcoming season, with fans taking to the social media to discuss the possible plot of Season 4.