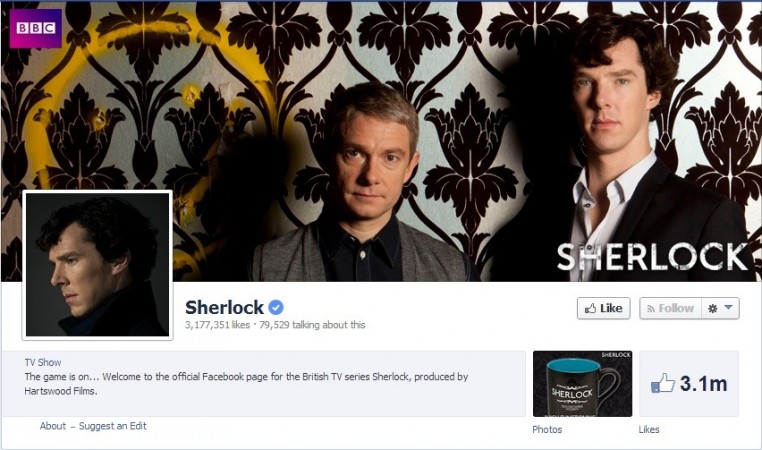 "Sherlock" season 4 is all set to return with a Christmas special and three new episodes, as per the reports. The show's creator Steven Moffat has made an official statement about the return of BBC's hit detective series.
"A special, plus a new series of three episodes — it's a record-breaking run! Of course, it's far too early to say what's coming, but we're reanably confident that the very next thing to happen to Sherlock and John, is the very last thing you'd expect...," Moffat said in a statement to BBC.
Adding to Moffat's statement, executive producer of the show Sue Vertue also suggested that the filming of the "Sherlock" season 4 would start in January 2015 and again 221B Baker Street would bustle with noise.
"It's taken a little while to get the dates sorted as none of the boys are exactly sitting back twiddling their thumbs but there was an unanimous goodwill to make this work, so we're thrilled that 221b is going to be inhabited again," Vertue said.
Moreover, it is also being understood that shooting of Christmas special would take place in 2015, whereas the other three episodes would go on floors a little later. This has led to speculation that Season 4 would go on air only in 2016.
Meanwhile, talking about the plot of "Sherlock," it is being suggested that there could be a death of one of its major character. Apparently, that major character would not be none but Dr John Watson's wife Mary Watson. Martin Freeman who plays as John Watson in the series suggested in his recent interview that his wife played by his real-life partner Amanda Abbington, would die as the series reaches its conclusion.
"While we play fast and loose with the original stories, we generally follow the trajectory of what Conan Doyle did," Freeman told The Telegraph. "So he gets married, and then Mary dies – so at some point presumably she'll die."
In the original works of Doyle, Mary dies between Holmes fake death at the Reichenbach Falls and his return three years later. But Abbington has already outlived Mary's character on screen.
The main cast of "Sherlock" includes Benedict Cumberbatch, Mark Gatiss, Martin Freeman, Andrew Scott, Louise Brealy, Amanda Abbington, Una Stubs and Rupert Graves. The series has been critically acclaimed and has been nominated for numerous awards including BAFTAs, Emmys and Golden Globe. Owing to the popularity of the show, the production house also started a new mobile app called Sherlock: The Network.
"Sherlock" was renewed for season 4 in January 2014.