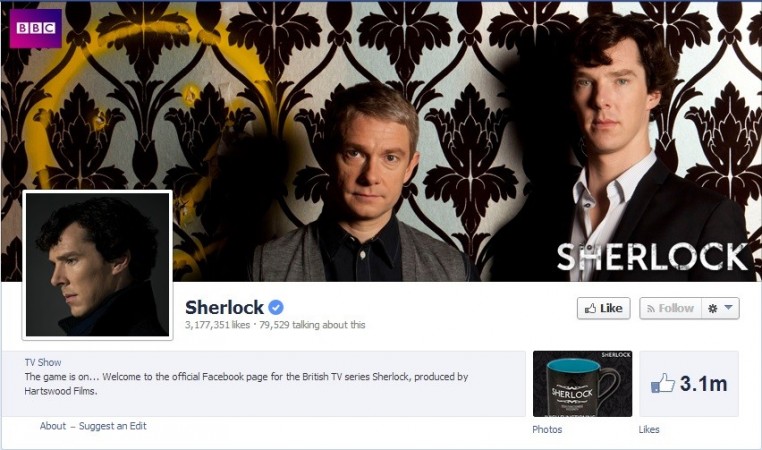 "Sherlock" season 4 is reported to follow a two-year gap pattern and make a return in 2016. However, it is being speculated that the BBC's hit detective drama may make a comeback as early as next year.
Production is slated to kick -off at the start of 2015 according to Radio Times.
Here are top 5 things, speculated to happen in "Sherlock" season 4.
1. Moriarty is Alive: "Sherlock" season 3 ended with main villain of season 2 Jim Moriarty embracing the digital screens all across London . He even made an appearance in the season 3's finale episode as part of Sherlock's mind palace.
"I can't really say what we're doing with that, but there is no last-minute whim in this," said creator Steven Moffat to Vulture about Moriarty's sudden appearance "We've had what we're going to do with Moriarty in place from before the second season. Exactly what we're going to do. I remember talking it through with Andrew Scott, who plays Moriarty. Wait and see what's going to happen," added Moffat.
It is being understood that just like Sherlock Holmes, even Moriarty faked his death.
2. James Watson would become a father: Season 3 showed Watson and Mary getting married and the latter getting pregnant. In all probability first episode would open with Mary popping out baby Watson.
3. Janine would be back: Holmes' former love interest and Mary's friend would be back in Season 4 and would be friends with Holmes.
"She'll be back and they'll be friends.He (Sherlock Holmes) likes her, though," Moffat further told IGN. "He'll see her again. They'll be pals. I loved Yasmine's performance as Janine -- she still likes him in the end. At some point, you know, if Sherlock Holmes has to go to a function and he needs a date, he'll phone her up. Now, he'll not expect her to say no. She'll be very cross with him, but she'll show up, and they'll have a good time. They will, because he likes her ," said the creator.
4. The third Holmes brother would make an appearance: The third son of the Holmes' family is named Sherrinford Holmes and it is being speculated, "Thor and "Avegners" actor Tom Hiddleston would be playing the third brother.
"Tom would be wonderful in 'Sherlock,'" Co-Creator Mark Gatiss who also plays Mycroft Holmes said in Q&A Brazil. "But he only does movies now. What can I say? I'll ask him if you like ," added Gatiss.
5. Sherlock and Molly could be together: Fans want that creators could work around a story between Sherlock and Molly. Molly has been shown in love with Sherlock since Season 1 and their love story could make for an interesting twist.