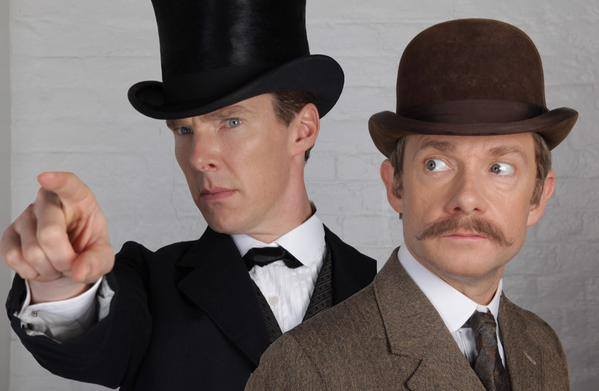 A new photo featuring "Sherlock" actors Benedict Cumberbatch and Martin Freeman in period costume was released on Thursday, ahead of a "Sherlock" panel at San Diego Comic-Con.
The picture indicates the start of preliminary promotion for the one-off "Sherlock" episode that will see Cumberbatch and Freeman's characters solving a mystery in Victorian times.
BBC is yet to confirm when the episode will be telecast, but creator Steven Moffat said earlier in an interview that the special episode will stand alone from the main series, which is yet to start filming season 4. Moffat also added that he and co-creator Mark Gatiss are yet to begin writing the fourth season.
Talking to the media, Moffat said the 90-minute special would be "a different version of the show we're used to".
"It's like we checked the books and discovered we'd set it in the wrong time period by mistake and it's like we're correcting it," he said, according to BBC. "We're really proud of it, we think it's a real cracker. But that'll be it until series four."
Shut up everybody, shut up! Don't move, don't speak, don't breathe. A new #Sherlock Special image has landed... pic.twitter.com/ZoCX8P4S9S

— BBC One (@BBCOne) July 8, 2015
Season 4 of the series, in the meantime, will be darker than the previous seasons, as the showrunners said in an earlier interview with Entertainment Weekly that they were looking forward to a darker climax.
"We have a plan to top [Season 3]. And I do think our plan is devastating. We've practically reduced our cast to tears telling them the plan," Moffat said. "We're probably more excited that we've ever been about Sherlock."
"We're going to try to take it somewhere we've never been before — and I don't mean outer space," Gatiss dished. "It will be a challenging place to go. We always start with a re-introduction that builds toward a darker climax — we might just be going darker. We got a very, very good set of ideas."