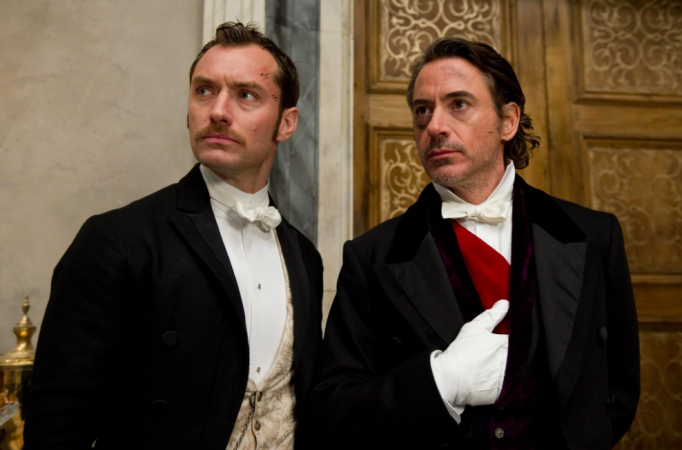 Robert Downey Jr and Jude Law's chemistry in the movie adaptation of Sherlock Holmes is admired by almost everyone. The two released films have earned more than $1 billion in total during their theatrical run. Based on the success of the two films, it was speculated that the studio will try to bring Iron Man star for one more Sherlock Holmes film.
The Avengers: Infinity War movie star recently shared a photo of himself and Jude Law from the earlier Sherlock Holmes' film to his Instagram page. Downey Jr. captioned the new post, "By any chance, have you missed us?" He even added Sherlock Holmes inspired hashtags to further tease the fans.
The shared picture of Law and Downey Jr. is from the first film in the Sherlock Holmes series which debuted back in 2009. The film was directed by Guy Ritchie on the screenplay penned by Michael Robert Johnson, Anthony Peckham, and Simon Kinberg. Based on the production budget of $90 million, the film earned a whopping $524 million. The film also received a favourable response from the fans and critics alike. Many praised it for the screenplay, action sequence, costume design and Downey's performance as Sherlock Holmes.
For his portrayal of Sherlock Holmes, Downey won the Golden Globe Award for Best Actor in a Musical or Comedy.
The sequel, Sherlock Holmes: A Game of Shadows was released in 2011. Upon its release, the film released mixed response from critics but proved to be a commercial success, earning over $545 million.
It was announced back in October 2011 that Warner Bros. has greenlit the project that would eventually become Sherlock Holmes 3. In 2013, Jude Law had commented on the project and remarked that "I think it's being written now. Warner Bros. has still got to agree to pay for it... I think they want to!" However, the film's script remained on the desk for a long time. Back in 2015, producer Lionel Wigram said that Downey Jr. and Law are definitely going to reprise their roles from the first two films but the script was still being written.
Sherlock fans were in for a surprise when back in May 2017, Wigram confirmed that the film's production will officially start in late 2018. He added: "It's closer to happening than it's been for a while. With any luck, we'll be making it at the end of next year. I hope, we'll see. Fingers crossed."
Sherlock Holmes 3 is scheduled to release in December 2020.