Even as Congress vice-president Rahul Gandhi filed his nomination for party president's post on Monday at around 10:30 am, his party leader from Maharashtra Shehzad Poonawalla, who had said that he would have liked to run for the post, has once again lashed out at the Congress.
Congress to pitch in dummy candidate
Poonawalla took to Twitter on Monday morning to claim that a source from the Congress told him that the advisors of Rahul's family are planning to field a "dummy candidate" against the Congress VP so that he can easily win the post of the party president.
He even referred to Rahul Gandhi as Shehzada (prince) in order to indicate and reaffirm his previous claim that they had been treating the election to the party president's post like a "family business", where the post is handed down to the family through generations.
"Party insider tells me dynasty advisors are considering fielding a "dummy candidate" against Shehzada. !! Really, why this farce??," tweeted Poonawalla.
Meanwhile, Priyanka Gandhi's husband Robert Vadra has congratulated him for filing the nomination.
Poonawalla's life in danger?
The Congress leader from Maharashtra also mentioned in his tweet that the source also asked him not to go to the All India Congress Committee (AICC) as he too might meet the same fate as Communist playwright and director, Safdar Hashmi.
Hashmi, who was considered an important persona in Indian politics, was attacked and killed allegedly by members of the Congress party.
"The well wisher also adds "Shehzad dont become a second Safdar Hashmi by reaching INC office today!," said Poonawalla while adding terming December 4 as " a Black Day in the history of my party!"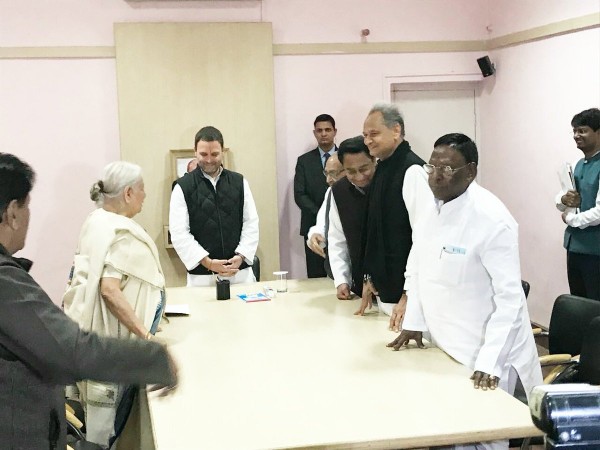 He had expressed fear for his life by referring to Hashmi on Sunday as well.
"Tomorrow Voters of Congress will give a befitting reply to Shehzada for denying us Shehzads the right to challenge the Crowning of the Prince - will give details tomorrow mrng - hope not eliminated like Safdar Hashmi - will avenge Sardar Patel's insult too," he had tweeted.
Modi praised Poonawalla
Poonawalla who said that his own party insulted him when he approached Rahul, thanked Prime Minister Narendra Modi for supporting him.
"Thank you @PMOIndia (Prime Minister's Office). I will continue my fight against dynasty politics — I will not be cowed down by attempts to silence me," Poonawalla wrote onTwitter.
He had since then taken several digs at Rahul and his party.
Rahul your dynastic slaves should show you this to understand that I am not against you but the rigged system u represent - u CANNOT be CROWNED for being a GANDHI- u need to fight REAL elections as per Constitution & earn the Prez post on merit not as inherited legacy from mummy https://t.co/N4Apw9H3gf

— Shehzad Jai Hind (@Shehzad_Ind) December 3, 2017
Aah and Please elaborate on Sidhu who made fun of Dr MMS & RG & INC then joined Congress :) and Congress took him too & made him a Mantri.. I am in Congress but I'm an opportunist because I fight dynasty :) waah ... suno Dynasty Mukt Congress banega zaroor https://t.co/HRnKWrdCAd

— Shehzad Jai Hind (@Shehzad_Ind) December 3, 2017
Lakhoṅ yuva jinke family ka koi pata nahi.. jinke paas Gandhi -Nehru ka brand name nahi hai.. jinke paas sirf merit hai , mummy - daddy ka naam nahi- voh meri family ban gaye :) https://t.co/E6AUn1YffZ

— Shehzad Jai Hind (@Shehzad_Ind) December 3, 2017