Soon after former IAS officer Alphons Kannanthanam was sworn in as Union Tourism Minister in Narendra Modi's reshuffled cabinet, his wife Sheela became the victim of hilarious memes and trolls on social media.
Sheela's casual chat with Malayalam news channel Mathrubhumi made her the butt of jokes as she was heard "boasting" about her husband Alphons, who himself is also known for self-bragging comments.
Also read: Eat beef in your own country, then visit India: Tourism Minister's advice
Sheela's words praising her husband, who received nearly 10 missed calls from the PMO and flew to New Delhi from Bengaluru in next flight, have been celebrated on almost all the comedy programmes on Malayalam TV channels. Not just that, many Dubsmash videos have also surfaced online taking a dig at the "style" of 55-year-old.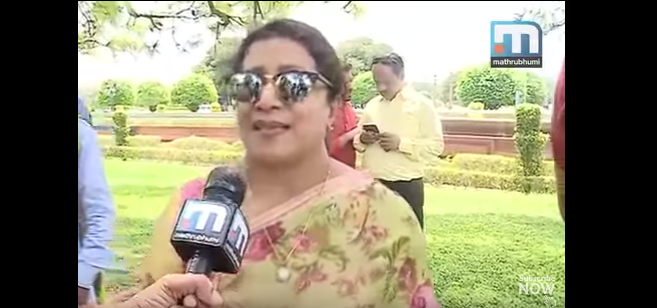 While interacting with the radio jockeys of Radio Mango FM UAE, Sheela has finally opened up on what exactly happened that day and how it has affected her personal life.
"It was against the ethics of journalism. You know how formal the ceremony at Rashtrapati Bhavan would be. When we were heading to Kerala House to have Onam feast, media personnel covered Alphons and he was about to fall down [translated from Malayalam]," Sheela is heard saying.
"When a reporter named Sheethal from an English channel asked for my comment, I told her I cannot speak fluently in English. But after my friends told me that the reporters might think I am denying to speak because of my arrogant attitude, I somehow told 3-4 sentences and she agreed on airing it," Sheela added.
A few other reporters were also there and asked for my comment and when a representative of Mathrubhumi came to me, I was so happy that I don't have to speak in English anymore. Though I told him there isn't anything new to talk about it, he assured that the camera was off and I had a casual chat with him. But it went viral on social media."
When asked about her wearing sunglasses in the viral video, she claimed that it was offered by her friend as it was extremely hot there. "It was not even mine. Even low middle-class people wear cooling glass there to protect their eyes. It should not be considered as the symbol of arrogance as people all over the world use it," she told.
Sheela admits that she was pained on becoming a joke and feels sad on what people would be thinking about her while she is travelling with her husband these days.
"Everyone is created by god. I like humor but I consider it unjust to portray someone in a bad light. I get a lot of calls from friends who are worried about whats happening. They [Mathrubhui news channel] assured me that they were not shooting anything still broadcast it all on television. They ridiculed me, Let it be. If that makes someone happy, so be it," she was quoted as saying on Onmanorama.
Listen to Sheela Alphons Kannanthanam's words:
Here is the viral video of Sheela: