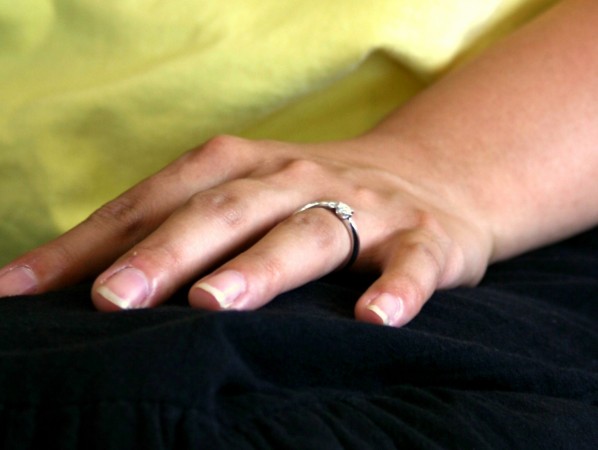 It truly is very hard to live in the dating world; the awkward conversations, dressing up in uncomfortable dresses when you would rather walk around in pyjamas, pretending to have a good time in your heels that are just too high, when instead you could be watching Netflix in the comforts of your couch. You still keep trying though because you are tired of being single, until you find that right person to commit to.
For British photographer Grace Gelder, it turns out, "the right one" is herself.
Gelder, a photographer and filmmaker based in London, proposed to herself on a park bench on Parliament Hill last November, she revealed to The Guardian. She calls the proposal surreal and recalls that when she heard the Bjork song Isobel, which has the verse "My name's Isobel, married to myself," she thought, "crazy as that sounds, I totally get that."
Gelder says it spoke to her about making a pact with yourself and then "somehow enacting that in how you live your life from that day on".
During a journey of personal development using meditation, dance and performance to increase self-awareness, Gelder attended a Shakti Tantra programme, which focused on sexuality and how this was bound up with making agreements with the most important person, yourself, along with the other people in your life.
Later, when she found herself single for about six years, she realised that her relationship with herself had never been better and that she was not interested in putting the effort to be with someone else.
She was looking for ways to pay tribute to the adventurous period of self-discovery but, at the same time, look forward to a new phase, and sitting on that monumental park bench, it dawned on her that "a self-marriage ceremony witnessed by other people would potentially be this massively powerful means of making those agreements stick."
A nudist photographer interested in the business of liberation and helping people feel comfortable and luscious in their skins, Gelder says her parents, who are very open-minded, took the news of her getting married to herself very well. "They'd got used to my attraction to the wild and the wacky. 'As long as it makes you happy, Grace, we're fine with it,' was their reaction." Although they did not make it to the wedding, they did shower her with supportive texts throughout the day.
Gelder has a Photography website wherein you can book her for portraiture, nudes, photography tuition, event documentation and a range of video work.