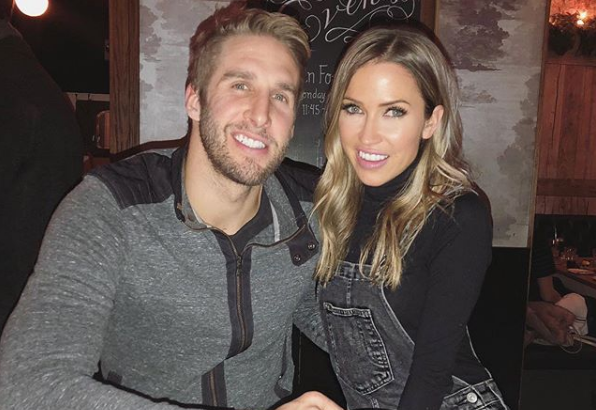 And the tradition goes on! Taking the holiday spirit from the bedroom to the kitchen this year, Kaitlyn Bristowe and her fiancé Shawn Booth posed topless to wish fans for Christmas.
With beanie caps oozing the holiday spirit, the engaged couple was between some faux cooking sessions when the picture was taken. They later shared it on Instagram to wish their followers on the occasion.
The Bachelorette couple, who got engaged in May 2015 on the show's season 11, hardly care about the camera's presence in the room as Kaitlyn is seen pouring a drink while Shawn holds on to a pan.
Both the stars are seen wearing matching pyjamas with reindeers printed on them. They also matched their green beanie caps.
While Shawn flaunted his chest, allowing fans to droll over his toned abs, Kaitlyn showed off her bare back. Holding a bottle and glass in each hand, the star covered her modesty to abide by the social platform rules and yet keep the tradition going.
"Pass the syrYUPP! #merrychristmas #tradition," the hunk captioned the picture. There were many elements that caught the attention of fans online. However, the way Shawn looked at Kaitlyn drew the most attention.
"Ok.. Can't miss that stare.." wrote a follower. "You must have a nice rack because that's all he is looking at haha," joked another. "His eyes r on the prize," another comment read. "He's forsure staring at your t**s lol!!!!!" said a fan.
While there were many such jokes, most fans loved the picture with many comments reading "#CoupleGoals."
Last year, the couple's topless picture featured their dog. Taken in their bedroom, the picture from 2016 featured more Christmas elements than this year. The photograph had a Christmas tree and gifts while the couple shared drinks on their bed.
The couple has been engaged for over two years now but is taking their time to walk down the aisle.