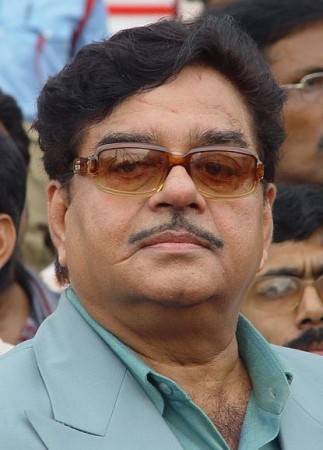 Actor-turned-politician Shatrugan Sinha, who was hospitalized in Mumbai's Kokilaben Ambani hospital on July 2 due to breathing problem, underwent bypass heart surgery on Monday.
The 66-year-old was operated after obstructions were discovered in the coronary arteries. The actor is said to be recovering well but will remain under observation in the hospital for a week and on bed rest for a short while after getting discharged.
"During the medical examination, it was found that there were some blockages, so on the advice of the doctor, we decided to rectify the problem. Mr Sinha is doing fine," his wife Punam Sinha told a daily.
"He was admitted to the hospital after he complained of breathlessness which developed due to paint work that was going on at our residence," she said.
The hospital authorities confirmed that Sinha had been admitted to the hospital following respiratory troubles and had been operated for blockage in the heart.
"Mr Sinha was hospitalised for severe breathlessness. During investigation, blockages were discovered in the coronary arteries. Based on medical advice, he underwent surgery," IANS quoted Ram Narain of COO Kokilaben Hospital, as saying.
Kokilaben Dhirubhai Ambani Hospital's cardiac surgeon Anvay Mulay performed the surgery.
"He is now well and on road to a speedy recovery. He thanks all his well-wishers for their unconditional love and support," Narain added to the news agency.
However, his daughter Sonakshi Sinha chose not to talk about father's ill health on social media sites. Sonakshi's tweets hinted that the actress was shooting for her forthcoming film "Dabangg 2" on Tuesday.
"Aaj ki taaza khabar... Rajjo dabangg 2 ki set par haazir hai! Shoot starts today :)," the 25-year-old actress tweeted on Tuesday, after father's surgery.
Sonakshi had earlier shot back at the media reports about Shatrugan Sinha's ill health, saying that, "Making moutains out of mole hills (baat ka batangadh) about someones health is NOT cool. My father is hale and hearty and waiting for me at HOME and not in the icu as some people are claiming on tv right now. Thanks for the concern, but pls... KHAMOSH!!"
The Sinha family has recently shifted to a new seven-storey building named "Ramayan".