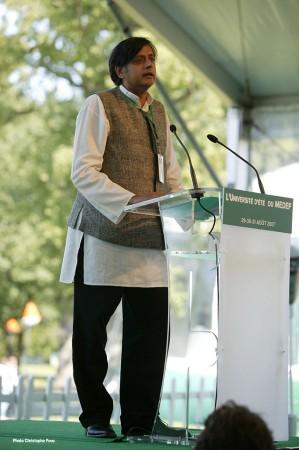 Shashi Tharoor's headline grabbing praise for Narendra Modi, has created frenzy across his party members, who were quick to lash out at the politician.
In an angry outburst, Congressman Mani Shankar Aiyar called Tharoor's analysis of "Modi 1 and Modi 2" as "sycophant phrases" and advised him not to use such terms.
Criticisms have been flowing in from within his party members against a blog Tharoor wrote on the Huffington Post titled "How Narendra Modi May Have Evolved into Modi 2.0." In the post, he had laid out words of praise for Modi, pointing out how his policies and actions slowly seem to be 'inclusive and conciliatory'.
"For an opposition member of Parliament like myself, it would be churlish not to acknowledge Modi 2.0's inclusive outreach and to welcome his more conciliatory statements and actions," he said in the piece. "The moment he says or does something divisive or sectarian in the Modi 1.0 mould, however, we will resist him robustly. India's people, and its pluralist democracy, deserve no less."
But soon after the article was published early Friday morning, dissents and anger were growing within congress members, with Aiyar going to the extent of accusing him of immaturity.
"I am neither angry nor offended. (I am) deeply disappointed that an intelligent man like Tharoor should come to such judgments. It demonstrates immaturity that according to Tharoor, we should stop being churlish" Aiyar told NDTV.
This comes after Tharoor -- amid growing criticisms from his own party members, and increasing media attention -- said earlier that he should not be called a "Modi fan" for what he had written. Reiterating on his opinion, he said: "It would be churlish not to acknowledge...when he says that he would be PM for everyone, including those who have not voted for him, that he would like to serve all Indians."
"We will certainly robustly oppose him," Tharoor told the news channel adding: "The duty of an opposition seems to me to stand up for national interest, not to oppose for the sake of opposing everything the government says or does."
Aiyar on Friday further lashed out on Tharoor's justification. "Who is opposing for the sake of opposing, you don't rush into fulsome praise...This kind of chameleon politics is undesirable," he said.
"My job is to keep red alert on a man whose past record does not inspire confidence."
Congress general secretary, Digvijaya Singh, who is also known to have softer stance towards Modi had a less aggressive advice to give Tharoor:
Modi Avtar 2 ? Let's not jump to conclusions but wait and watch.

— digvijaya singh (@digvijaya_28) June 6, 2014