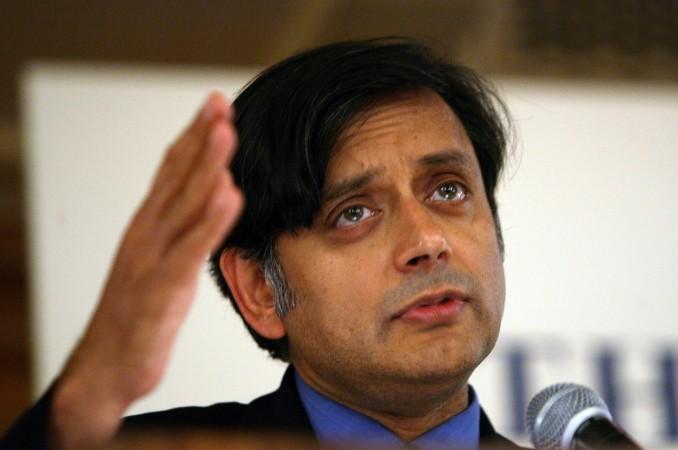 Congress Parliamentarian Shashi Tharoor on Thursday lashed out at the media for carrying sensational news about him and the murder case of his late wife Sunanda Pushkar.
In an interview with CNN-IBN during the launch of his book 'India Shastra: Reflections on the Nation in Our Time' at Apeejay Kolkata Literary Festival, Tharoor said that some anchors on TV are trying to be prosecution, judge and jury and trying to defame him.
"Some anchors are behaving like prosecution, judge and jury. We will take stock of the situation when the time comes. I am not seeking any rights than that I already have as citizen of India," Tharoor said, according to IANS.
He continued striking at the media, specially news channels, for sensationalising issues in order to raise their TRP and said that this has affected the print media adversely, which is facing competition from the former. Tharoor said that this has led to the "steep decline" in the standard of news in Indian media today.
"They are mostly voyeuristic, sensational and TRP-driven. There are too many channels today and many of them are losing money. So there's this race to get 'breaking news' which is not always true or factual. The TV channels have infected the print media, which feels it has to compete against the channels to retain their readers who have seen all the news on TV," The Times of India quoted Tharoor as saying.
The Congress MP said he wanted to file a defamation suit against those who are trying to defame him but was advised against it by his lawyers, who told him that case will be dragged on for years without any progress.
"Some years ago, some papers and channels said obnoxious things about me and levelled false allegations. I thought of suing them, but was strongly advised against it by lawyers and others who said that those media houses had deep pockets and would get the cases adjourned for years. At the end of 10 years, I was advised, the case would be still going on. So I gave up the idea," Tharoor explained.
Tharoor referred to an earlier incident to prove his and his lawyers' point how the case against media organisations never gets to the court for the final hearing. About three years ago, he had filed a defamation suit against a newspaper for carrying an article accusing him of having a Swiss bank account.
"The case was filed in the Calcutta High Court three years ago. Till today, no hearing has been held," he said.