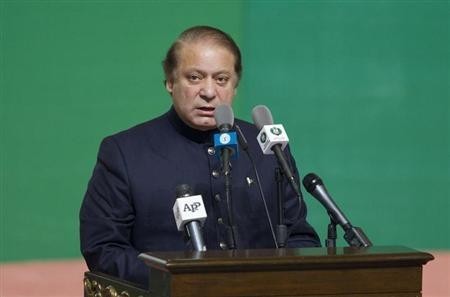 A major row erupted over Pakistan Prime Minister Nawaz Sharif purportedly calling his Indian counterpart, Manmohan Singh, a 'dehati aurat' (small-town woman) when he was having an off-the-record talk with journalists in the US on Sunday.
Pakistani Geo TV journalist Hamid Mir reported that Sharif had used the 'dehati aurat' description when he and NDTV's senior journalist Barkha Dutt met the prime minister on Saturday.
The remark stirred furore among political circles and on social networking sites.
Gujarat Chief Minister and NDA's prime ministerial nominee Narendra Modi attacked Sharif while addressing his supporters at a mega rally in Delhi on Sunday.
"This is an insult to all the 125 crore people of India. We will not tolerate our PM's insult. We are opposed to each other at home but no other nation can point fingers at our nation. How did Nawaz Sharif get this courage?" he said.
Modi also blamed the controversial remarks made by Congress Vice President Rahul Gandhi on Friday regarding an ordinance on convicted MLAs and MPs.
"This is because his (Manmohan Singh's) own leaders call him nonsense. If you (Congress) do not respect your party PM then how can you expect Nawaz Sharif to do so," Modi had said.
The two journalists - Mir and Dutt, have tried to put a lid on the controversy saying Sharif was reportedly unhappy that the Indian PM had complained to US President Barack Obama about Pakistan.
Dutt posted on Twitter saying, 'this (Mir's version) is a distortion entirely' and that Sharif had said 'nothing of this kind'. She added that Sharif had told a tale about a dispute between two villagers, one of them being a woman. The story ended with how fights should be settled without an involvement of third parties.
While answering a query, Mir tweeted, "PM Nawaz Sharif shared a joke with us on breakfast table about Manmohan ji its very long I cannot mention. Nawaz never said anything derogatory against Manmohan."
Later, Pakistan foreign secretary told NDTV that no such derogatory comment was made against Manmohan.
Latest Reactions
Rajendra Prasad, BJP leader: "Why didn't Nawaz Sharif's office formally deny remark," he said.
Vir Das, Actor and comedian: "Judging from my trends list, some Dehati Aurat Was Breaking Barkha Dutt's Bad and Fekku'd it towards The Other Side of Mir," he tweeted.
Sagarika Ghose, CNN-IBN journalist: "Re Modi, Nawaz, #DehatiAurat: Has Pak ever had a women's movement?Guess not.But Gujarat certainly has a long tradition in activist women," she tweeted.
Chetan Bhagat, author and columnist: "Not important or provable if Nawaz said #dehatiaurat or not.Fact is he's done little to stop terrorism and we've lost lives. Remember that," he tweeted
Nadeem F. Paracha Pakistani Journalist (Dawn): "'Dehati Aurat' in Pakistan is a person who is brave, hardworking, honest and lacks rabid middle-class morality. All things Modi isn't," he tweeted.