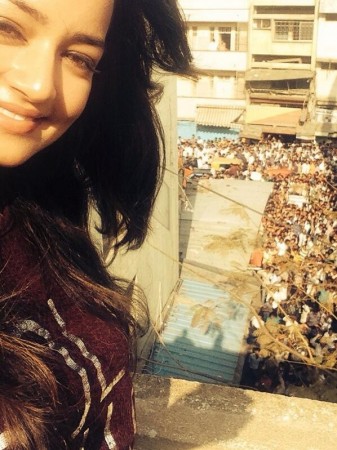 Kannada movie "Chandralekha", which released on Friday, 7 March, has received positive reviews from critics as well as audiences, and actress Shanvi Srivastava, who has starred in Sandalwood for the first time, has gained a huge number of fans overnight.
Srivastava's Twitter account (@shanvisrivastav) was flooded with praises about her acting in "Chandralekha." The actress was present with her co-star Chiranjeevi Sarja at the main theatre of the film. They both thanked the fans for their response.
In "Chandralekha," Srivastava has played a dual role, in one of which she is possessed by a ghost. The actress is overwhelmed with the love that her fans have given her. "Thank you everyone for praising my performance and accepting me both as Aishu and Chandralekha," she posted on the micro-blogging site Twitter.
"Chandralekha" is a remake of the Telugu film "Prema Katha Chitram." This is comedy horror movie and it is the first time that the actress has acted in this genre.
The actress has worked very hard for this debut movie in Kannada. Srivastava is seen riding a bicycle in a song from the movie. While shooting for this sequence, the actress reportedly fell of the bicycle five times. "I fell off the bike the first three times by accident. Then I was asked to fall for the song sequence, so the fourth time, I fell on purpose. But the director wanted a retake, so I had to fall off the bike again," she explained to The Times Of India.
Srivastava made her entry to the film industry through Telugu films. She made her acting debut in the movie "Lovely." This movie turned out to as a hit in the box office and the actress was appreciated for her performance.
Srivastava has two upcoming movies - "Rowdy" and "Pyaar Mein Padipoyane." Both the films are in Telugu and they will be released in 2014. The trailer of "Rowdy" was launched on 8 March and it has already got many hits.
(Edited by Anu James)