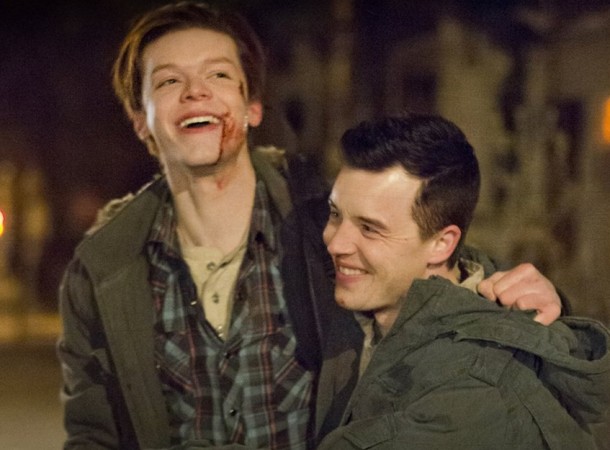 Unlike every single member of the Gallagher household, as of season 5 finale, fans of Showtime's "Shameless" can sleep well, considering the comedy-drama series has been renewed for yet another season.
However, the upcoming season 6 may bring forth some unpleasantness for some fans, as Noel Fisher, who plays one half of the Ian-Mickey power-couple, may be leaving the show to pursue a film career.
Season 5 of "Shamless" ended with Ian (Cameron Monaghan) breaking up with possibly the only person who even remotely gets him, and genuinely wants to see him happy; bipolar or not. "Love Songs (In the Key of Gallagher)" ended with Sammi (Emily Bergl) exacting revenge on Mickey for locking her up in a box for about a week, by chasing him with a gun.
While it is almost certain that Mickey is not going to die at the hands of Sammi, fans may be seeing the last of him, as Ian tells him that he "can't fix me because I'm not broken. I don't need to be fixed. I'm me," in a heartbreaking scene. Fans can see where Ian is coming from, but that did not mean the breakup was any less painful.
However, their breakup is not just a creative choice, the show-runner of "Shameless" John Wells told The Hollywood Reporter, "He (Fisher) was going to do a movie and wasn't prepared to sign on for another year, so I have to check back in with him in a few months and see. He has a very thriving film career, and we really just hired him for a few episodes when we started, but we keep expanding it, and he always comes back when he's available." Even Monaghan has been busy playing the iconic Joker in the "Gotham" series of FOX.
Although, Fisher's unavailability may prove to be an excellent time for Ian to discover himself, as Wells explains: "It's that thing that often happens when you're younger: you have a relationship that's really difficult and passionate and messy, and then you go away from it and you discover the rest of the world, and sometimes you come back to that first person anyway."
Watch out for season 6 of "Shameless" in 2016, to see if the couple that shattered gay stereotypes on TV will find their way back to each other.