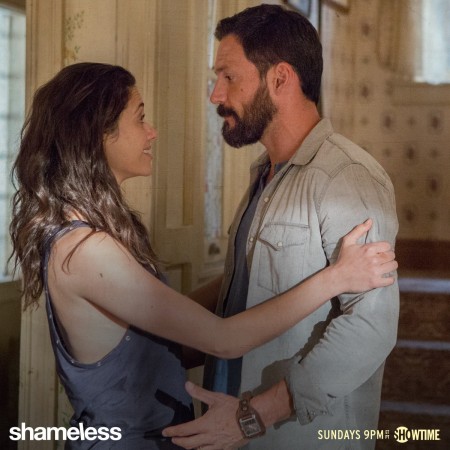 "Shameless", which will air episode 8 of this season on Sunday, 8 March, will be treading into grayer areas, away from the feel-good and happy moments in the show's Season 5.
Fiona (Emmy Rossum) has to deal with the consequences of cheating on her husband with her ex-boyfriend in "Uncle Carl", while trying to convince her bipolar brother to start taking his medicines. Lip (Jeremy White) is trying to raise money for his tuition fees and none of his options are legal. The title of the episode possibly attributes to Carl (Ethan Cutkosky), who has taken his eldest sister Sammi's (Emily Bergl) son Chukkie.
Ian (Cameron Monaghan) has been discharged from the psych ward; and while his boyfriend Mickey (Noel Fisher) had visited him in "Tell Me You F*ck*ng Need Me", he is noticeably absent when Fiona and Lip go to pick Ian up. Regardless, Mickey is evidently and deeply in love with Ian and is seen sleeping with his shirt on the floor drunk in the last episode.
It was also evident that Ian does not believe that he is sick; and according to the trailer of "Uncle Carl", he is not taking his medicines after coming home. When Fiona confronts him about it, calling it a full-on "Monica Move", Ian says he is nothing like their mother Monica. He also tries to defend taking Mickey's baby Yevgeny on a long road trip. He further accuses everyone of cornering him, since Fiona was not termed as "sick" when she almost killed their baby brother Liam out of negligence.
Fiona is also plagued with the fragile status of the relationship with her new husband Gus (Steve Kazee) after revealing to him that she had sex with her ex-boyfriend Jimmy, also known as Steve Wilton and Jack. After initially expressing a desire to talk to him, Gus punches him after barely meeting him and warns Fiona that while he may be biased, he thinks she deserves better. Although she broke things off with Jimmy in Sseason 5 episode 7, Fiona becomes worried about her marital status after Gus tells her that he is going on a tour.
Meanwhile, Lip has to raise money to pay his tuition fees and turns to Kev (Steve Howey) to help him sell drugs in college dorms. As an RA, Lip insists that dorms are a seller's hangout place and convinces a reluctant Kev to join him.
Sammi had shot her father Frank (William H. Macy) in the shoulder on "Tell Me You F*ck*ng Need Me" after getting frustrated with his indifference. Sammi, who has throughout her presence in the show explicitly suffered from "daddy issues", is happy to hear that he needs her even if she has to force it out of him. However, Frank is pretending to make nice with his daughter while trying to plot his revenge in their new "escalating war of the roses."
As Carl has taken Chukkie under his wing, it would be fun to see the younger Gallagher brother stand as a guardian for his nephew and take up more responsibilities.
Watch "Shameless" Season 5 episode 8, "Uncle Carl", on Sunday, 8 March.