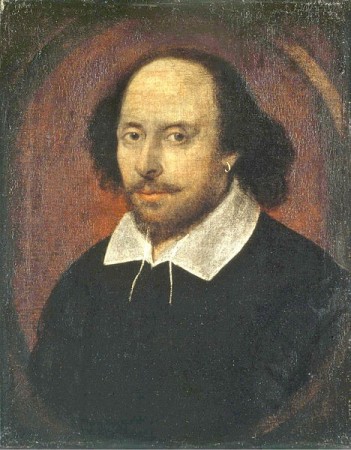 April 23 is believed to be the birth anniversary of William Shakespeare, one of England's greatest poets and dramatists. 2014 marks his 450th birthday.
The day, which is one of the most popular observances especially in the United Kingdom and rest of the English speaking countries, is often celebrated with great enthusiasm. Special pageants are held at Stratford-upon-Avon in Warwickshire, where Shakespeare was born and where thousands of tourists go each year to see his plays being performed.
The bells of Holy Trinity church ring out and the mayor or Stratford leads a procession there to lay flowers on the grave of the legendary English writer, who is often referred to as the father of English literature.
To mark his birth anniversary and Shakespeare's Day 2014, here is a collection of the 20 all-time best quotes from the legendary writer and poet:
1. All the world's a stage, and all the men and women merely players: they have their exits and their entrances; and one man in his time plays many parts, his acts being seven ages.
2. A fool thinks himself to be wise, but a wise man knows himself to be a fool.
3. Love all, trust a few, do wrong to none.
4. If you prick us do we not bleed? If you tickle us do we not laugh? If you poison us do we not die? And if you wrong us shall we not revenge?
5. If music be the food of love, play on.
6. It is not in the stars to hold our destiny but in ourselves.
7. There is nothing either good or bad but thinking makes it so.
8. Suspicion always haunts the guilty mind.
9. Better three hours too soon than a minute too late.
10. Better a witty fool than a foolish wit.
11. What's in a name? That which we call a rose by any other name would smell as sweet.
12. Love is a smoke made with the fume of sighs.
13. The empty vessel makes the loudest sound.
14. We know what we are, but know not what we may be.
15. To be, or not be to be, that is the question.
16. A man loves the meat in his youth that he cannot endure in his age.
17. Life is as tedious as twice-told tale, vexing the dull ear of a drowsy man.
18. Love sought is good, but given unsought, is better.
19. The robbed that smiles, steals something from the thief.
20. Having nothing, nothing can he lose.
21. I wasted time, and now doth time waste me.
(ED:VS)