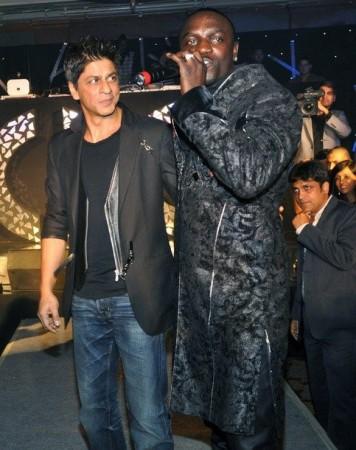 After an astonishing victory in IPL this year, the co-owner of Kolkata Knight Riders, Shah Rukh Khan has already started planning for next session of the IPL well in advance.
If the latest news is to be believed, Shah Rukh Khan might bring an international pop sensation to IPL cricket field next season.
The news is doing the rounds that the ecstatic owner of KKR is planning to get American R& B singer Akon to India to sing the new anthem of KKR... and that too in Bengali.
SRK is not the one to do the usual, hence this time the superstar is reportedly planning to rope in the international pop star for singing the new version of KKR's anthem "Korbo, Lorbo, Jeetbo Re." Akon has previously sung for Shah Rukh's film "Ra.One".
Talking to a daily, director Vishal Dadlani, who initially sung the anthem, said, "It will be a newer version of Korbo Lorbo Jeetbo Re."
The new version will be a "celebration and explosion of the fun-filled Bengali culture," he said, adding, "The tune of the chorus will be the same. The rest will change."
About Akon singing the new anthem, Vishal said, "I am still not sure of any such development."
However, he revealed that Shah Rukh Khan is still close to the international singer.
"I am in constant touch with Akon and so is SRK. Nothing has been finalized yet," Zee News quoted him as saying.
Meanwhile, filmmaker Sujoy Ghosh confirmed the rumour by saying "I think the word I would associate with Shah Rukh Khan and his team this time would be 'Rongbaaj'."
"I loved SRK and the team's attitude through the IPL. The way Team Kolkata won the finals, they have every right to put their collars up. And Rongbaaj perfectly fits the bill," the daily quoted him as saying.