The "Badshah of Bollywood" Shahrukh Khan has been conferred with one of Morocco's highest honours by Prince Moulay Rachid.
The 47-year-old actor recently visited Morocco to attend the 12th International Film Festival of Marrakech. The ongoing Marrakech Film Festival paid a tribute to 100 years of Indian cinema.
Prince Moulay presented Shahrukh with a rare state honour, Wissame Al Kafaa Al Fikria (award of intellectual merit), on Saturday.
After the tribute, Prince Moulay hosted a royal dinner party for the delegation of Bollywood stars who were present at the event, during which he presented Shahrukh with the Medal of Honour of Morocco.
"Shah Rukh has been conferred with Wissame Al Kafaa Al Fikria (award of intellectual merit) which is the highest honour in Morocco. He was decorated with this honour by Prince Moulay Rachid at the royal dinner and he is the first Indian actor to get it," DNA quoted a source as saying.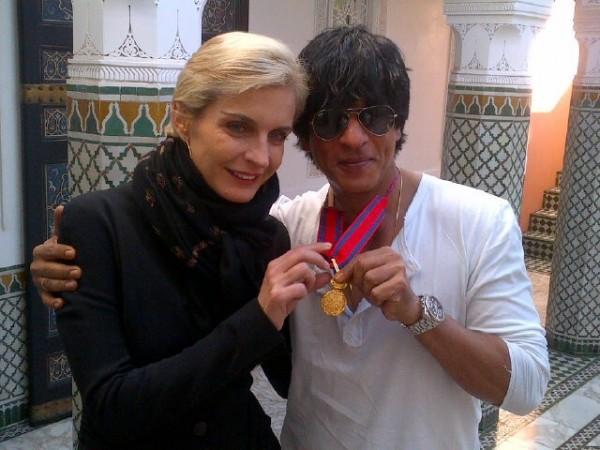 King Khan took to Twitter to share his experience and also to thank everyone.
"Thanx (Thanks) my frıend Melıta for the honour and happiness. All the best for the rest of the festival," Shahrukh tweeted adding; "Thanx (Thanks) everyone for the wishes from Morocco. His Highness the King and the Prince were so gracious with their hospitality and the function."
His latest romantic film "Jab Tak Hai Jaan" directed by late Yash Chopra was also screened at the festival.
Bollywood stars including Sharmila Tagore, Tabu, Hrithik Roshan, Sridevi, Anurag Kashyap, Arjun Rampal and Malaika Arora Khan were among others present at the event.