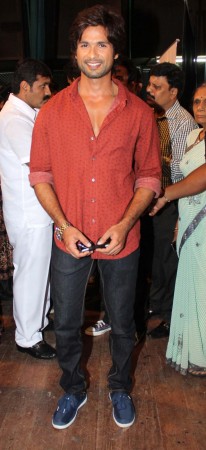 Bollywood director Tigmanshu Dhulia's forthcoming film "Haider" will reportedly have Shahid Kapoor in the lead with veteran actress Tabu and newbie Shraddha Kapoor.
"Haider" will be Dhulia's third film in his Shakespeare trilogy after "Maqbool" and "Omkara".
According to reports, Shahid will play the role of Prince Hamlet, who in Shakespeare's famous drama seeks to avenge the death of his father, the king.
Confirming Tabu's role in "Haider", a source told Mumbai Mirror, "Tabu was his first choice for the role and Vishal has been trying to cast her for a long time and it is finally working out."
The source refuted rumours that the actress would play the role of Queen Gertrude, Hamlet's mother, "No, she does not play Gertrude. But the story of the film progresses through Tabu's character. She plays a strong-willed woman," said the source.
Incidentally, this will be Shahid and Shraddha's second film together. The duo was recently signed for the lead roles in "Milan Talkies", a light-hearted drama which will be helmed by Dhulia.
It will be a reunion of sorts for Shahid who had last worked with Dhulia in the critically acclaimed film "Kaminey".
Dhulia, who aims to complete his Shakespeare trilogy with "Haider" will shoot scenes in the beautiful locales of Kashmir. The film's schedule is expected to start by this year end.
Over the years, "Hamlet" has been subjected to various interpretations and adaptations both on screen and in several literary pieces. Hollywood's attempt at the Shakespearean tragedy had Laurence Olivier directing the film with the same title in 1948.