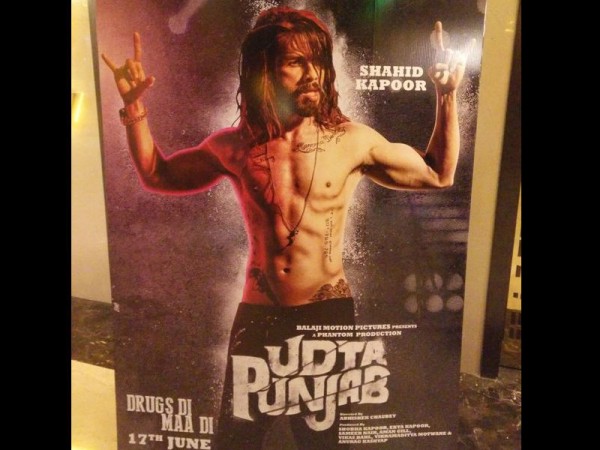 Shahid Kapoor will be seen playing the character of a drug addict rockstar named Tommy Singh in the movie "Udta Punjab" and reports suggest that the character is inspired by Punjabi rapper and singer Yo Yo Honey Singh.
Honey Singh was recently in news when he had revealed that he had turned into an alcoholic and was suffering from bipolar disorder. "The whole cult of the wild raunchy Punjabi rock star was spearheaded by Yo Yo Honey Singh. Toh kahin na kahin usski chabbi to aani hi hai. I would say Shahid plays a much wilder and far more aggressive version of Yo Yo. It's a wild character who indulges in rampant substance abuse," DNA quoted a source as saying. However, the report also added that makers of the movie have denied any resemblance between Shahid's character of Tommy Singh and real-life singer Honey Singh.
Earlier, revealing his fight with alcoholism and bipolar disorder, the Punjabi singer had told the Times of India, "I must confess that I was bipolar and an alcoholic, which aggravated the condition. It was scary. One year had passed and I wasn't responding to medicines, until a fourth doctor from Delhi treated me.
"At one point, I thought I would live in this darkness forever. I had cut myself from everyone. I didn't come out of my room, forget stepping out of the house. I had a beard and I didn't get a haircut for months. For someone who has performed in front of a crowd of 20,000, I was scared of facing 4-5 people. That's what bipolar disorder does to you."
The trailer of "Udta Punjab" was out recently and it showed that Shahid will appear in a never-seen-before avatar. Directed by Abhishek Chaubey, "Udta Punjab" also features Alia Bhatt, Kareena Kapoor Khan and Diljit Dosanjh. Slated to be released on June 17, the film is based on the issue of drug abuse in Punjab.