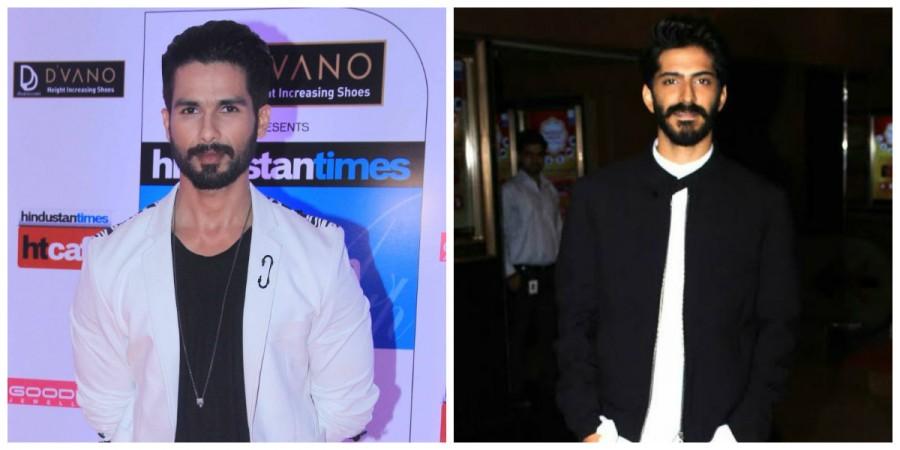 Shahid Kapoor along with his wife Mira Rajput attended Aamir Khan's Dangal success party where the actor threatened Harshvardhan Kapoor to beat him with shoe.
Padmavati: Ranveer Singh's look from Deepika-Shahid's film revealed
Sonam Kapoor's brother Harshvardhan, who had made his debut in Mirzya, was about to make an exit from the party when Shahid arrived in the venue and was interacting with the media. While, the new actor greeted Shahid with a warm hug, the latter soon said "joota maroon utaar ke" to him.
So, what exactly caused the Rangoon actor to say those words to Harshvardhan? Well, it was all in jest as Harshvardhan called Shahid a "senior actor". First, the Mirzya actor saw Shahid talking to the media when he was making an exit from the venue and hence, the former greeted him with a hug.
Shahid then jokingly said: "All these young boys are leaving before this very responsible married couple is arriving late. Kuch ulta ho raha hai". Harshvardhan responded by saying "making room for the seniors" to which Shahid jokingly said, "joota maroon utaar ke..senior hoon main?" Their funny banter was one of the interesting things that happened at Aamir's success bash.
Shahid, who had impressed the critics and audience with his performance in Udta Punjab, will next be seen as a soldier in Rangoon. The film's trailer showed some sizzling chemistry between him and Kangana Ranaut. Rangoon also features Saif Ali Khan. Directed by Vishal Bhardwaj, Rangoon is slated to be released on February 24.