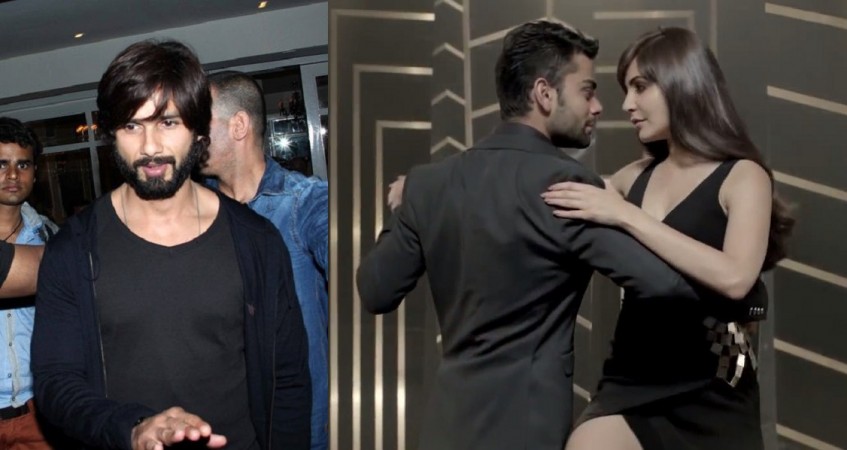 Shahid Kapoor is one of the actors from the Bollywood industry who speaks his mind and this time the "Haider" star has extended his support to the gorgeous actress Anushka Sharma on the recent allegations against her by the Board of Control for Cricket in India (BCCI).
In reference to India's recent defeat in the test series in England, BCCI blamed the Indian cricket team's wives and girlfriends (WAGs) for distracting the players by visiting them during the matches.
Cricketer Virat Kohli and his rumored girlfriend Anushka Sharma's names also came up as the board asserted that Sharma's visit during the matches had distracted Kohli and similarly other players were diverted due to the presence of their respective WAGs.
The "Haider" actor, who has worked with Sharma earlier in "Badmaash Company" (2010), strongly pointed out his views while completely disagreeing with the BCCI. He claimed that the players' personal lives should not be held responsible for their poor performance on field.
The board even suggested to put a ban on players WAGs from accompanying the players during the tour.
"Everyone is an adult and an individual personality, and they can meet whoever they want. I personally wouldn't feel comfortable if those kinds of restrictions were put around me. And secondly, to say something like that right after we have lost a series very badly is almost like trying to put the blame on something which isn't a fundamental reason. We need to question the cricket and not people's personal time." Kapoor said in an interview with Hindustan Times.
In such a disheartening moment, Kapoor's support would definitely be a help to the rumored lovebirds -Sharma and Kohli - and hopefully an eye opener for the Board.
Meanwhile, Kapoor will soon be seen in his upcoming movie "Haider" opposite Shraddha Kapoor, which is set to release on 2 October. "Haider" is an adaptation of Shakespeare's tradegy play "Hamlet."Directed by Vishal Bhardwaj, the film also stars Tabu, Kay Kay Menon and Irrfan Khan in pivotal roles.
The "Kaminey" actor, with a bag full of movies, will also be seen in Vikas Bahl's "Shaandar" in late this year. He will also star in films by Raj Nidimoru, Krishna DK and Abhishek Chaubey.