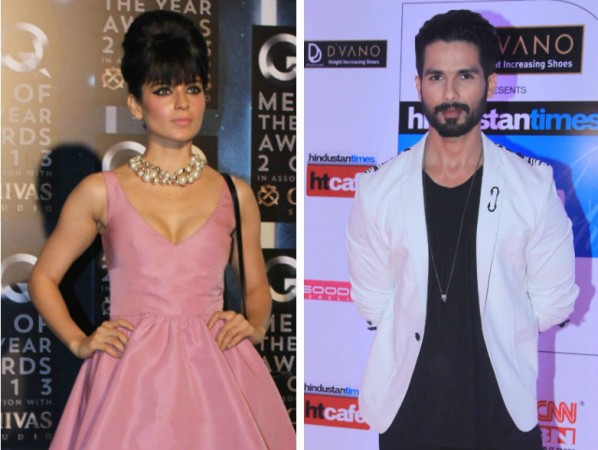 Bollywood actors, Shahid Kapoor and Kangana Ranaut, will be seen sharing screen space for the first time in "Rangoon." But, the buzz is that all is not well between the stars and the duo is not on talking terms as well.
According to an SKJ Bollywood News report, the cold war between Shahid and Kangana began on the sets of "Rangoon". "They give their shots together like two strangers, and move away into their vans," a source told the entertainment portal.
Another reliable source said: "It started with mild arguments on the sets about how to interpret a shot, where to stand on the set, how to deliver a line, etc. As the shooting progressed, it blew up into a huge war of words between the two. By the time the shooting was wrapped up, they were not even looking at one another until the camera was on."
In fact, there were reports earlier that things were not well between the two actors. After "Rangoon" wrapped up, Kangana once had said at a media interaction that she was the third hero in the film.
On this, Shahid had responded asserting that he did not think being a hero or heroine made any difference. "Why doesn't she say that there are three heroines in the film? Is there anything less in being a heroine? There are three protagonists in the film and for me, being a hero or a heroine doesn't make any difference. So, if saying that you being a hero makes you a bigger person, I don't agree with that thought process," the "Haider" actor had told DNA.
It looked like Shahid was miffed with Kangana and was trying hard to prove her wrong. In fact, it had been reported that Saif Ali Khan and Shahid were miffed with the "Queen" actress as she tried to teach them how to act while shooting "Rangoon".
On the other hand, the reliable source told SKJ Bollywood News that Kangana and Shahid used to shower the director Vishal Bhardwaj with their suggestions.
"Both Shahid and Kangana feel they are qualified to be directors. They both showered the director Vishal Bhardwaj with suggestions, while Saif Ali Khan who plays the third protagonist, kept quiet. Matters came to such a head that one would want to do a scene in a different way just because the other said it should be done in a particular way. Going by the way the two behaved with one another, it is unlikely they'll ever work together again," the source said.