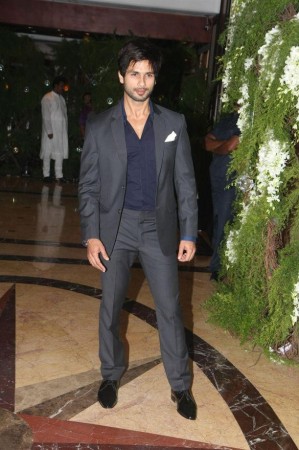 Recent reports of fire on the sets of "Rambo Rajkumar" may have inflicted serious injuries to actor Shahid Kapoor, who has several daring stunts in the film.
The actor has reportedly sustained deep burns on his back and arms and needs time to recover.
"We were shooting a fire sequence when the chemical used to create the fire went awry. It singed Shahid's shoulder and hand. It could've been much worse. Thankfully, nothing serious happened," a source from the production unit revealed to IANS.
Meanwhile, the extreme stunts in the film are said to be a conscious decision of director Prabhudeva, who wanted to take it to the next level after working with Salman Khan ("Wanted") and Akshay Kumar ("Rowdy Rathore").
"When Shahid decided to do his first action film, he had to make sure the stunts were of the never-before variety. That's why he waited so long to do an action film and even opted out of his friend Siddharth Anand's Bang Bang," added the source.
Shahid was the first choice for "Bang Bang", the Bollywood remake of "Knight & Day". Later, Hrithik Roshan was roped in for a part.
"But then, somewhere down the line, Shahid preferred Prabhu's project as his first attempt at the action genre. Bang Bang is a remake of a Tom Cruise actioner Knight & Day and Shahid didn't want his stunts to be compared with Cruise. Rambo Rajkumar is an original," said the source.
When asked Prabhudeva of Shahid's injury, he excused himself saying, "We're going to Australia for a holiday. During my vacation with my kids, I'll also unveil the first look of Girish Taurani's debut film 'Ramaiya Vasta Vaiya'."